Tech News
How to configure disk quota on Windows 11
If you share your PC with others, you know how frustrating it is to run out of storage as they take up too much with their giant games and 4K movies. Fortunately, there is a better way to handle this. Windows allows you to set disk space quotas. Essentially, each member will have their share of disk space. Once they have reached their maximum share, they cannot store any more data on the hard drive. This means that you will always have more control over your storage space. In this guide, we tell you how to configure disk quota in Windows.
What you need to know about disk quotas
Here is some important information to know about disk quotas before using them:
You can only set quotas on NTFS volumes.
You can configure quotas per volume, not per computer or per folder.
The quota feature refreshes storage usage for each user every hour.
You can set a quota for individuals or for all PC users, but not for a specific group of users.
How to Configure Disk Quota Using File Explorer in Windows 11
The easiest way to configure disk quota is to use File Explorer.
Start by going to computer (Where ThisPC if you are using Windows 10), right-click on a volume and select Properties. switch to tab Quota and select View quota settings.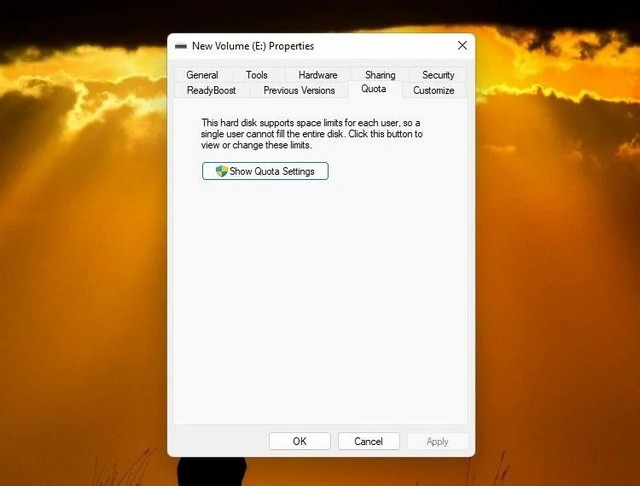 Check the box next to Enable quota management and Deny disk space to users over quota limit. Just below these options you will see a radio button next to an option called Limit disk space to. Select it and enter a quota. For example, you can enter 40 GB if that's the space you want to allow a user.
Below you can also enter a warning level. For example, if you set the warning level to 35 GB, Windows will warn the user that they are approaching their disk space quota when they use 35 GB of storage space.
If you want to monitor other users' disk space usage, you can also check the boxes next to the two options at the bottom called Log event when a user exceeds their quota limit and Log event when a user exceeds their warning level. If you check these boxes, Windows will save an event log whenever a user exceeds their warning level or quote limit.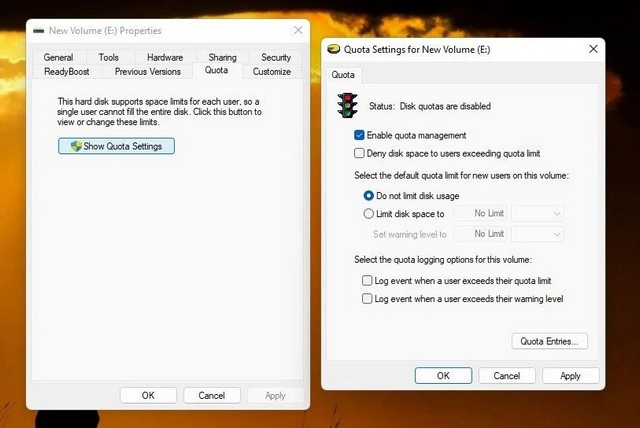 When you're done, click Applythen on OK when you see the warning.
You still haven't selected the users to whom this quota should apply. Until you configure user-specific limits, the quota will be applied to all users.
How to Disable or Adjust Quota Limits
Click on the button Quota entries in the Quota Settings window. You will see a list of users with their quota limit and storage space used. If you don't see one or more users, select Quota > New quota entry.
Click on Advanced > Search Now and select the users you want to add.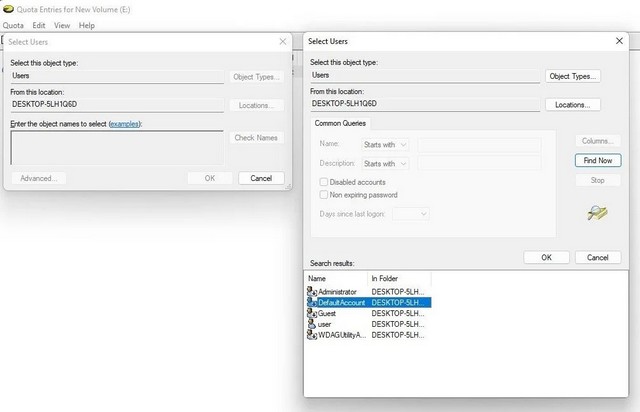 Now Click OK and you can add a quota limit for that specific user. Click on OK once you have finished.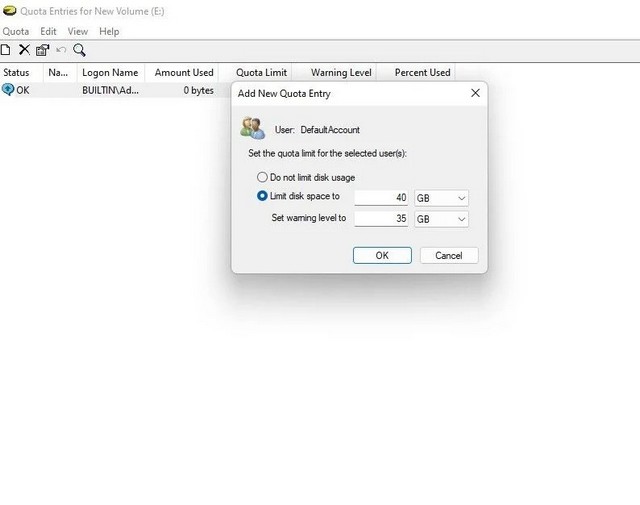 You can adjust the quota limit for specific users by right-clicking their name and selecting Properties. Enter a limit and click OK.
If you want to remove the quota limit, select the option Do not limit disk usage, then click OK.
Click again on OK to exit the window. You will need to restart your PC at this point for disk quotas to take effect.
Configure disk quota using Group Policy Editor in Windows 11
Like everything else on Windows, there are also less straightforward ways to configure disk quota. If you failed to apply disk quotas using File Explorer, you can also use the Group Policy Editor to configure your disk quota.
Using Group Policy Editor forcibly enforces disk quotas unlike File Explorer, so this method is useful. However, it is better to use the previous method first because it is easier.
Also, you can only use the Group Policy Editor if you are running Windows 10/11 Pro, Education, and Enterprise. If you are on the home editor, try the following method.
Start by pressing Win+Rentering gpedit.msc and pressing In trance. This will launch the Group Policy Editor. Go to Computer Configuration > Administrative Templates > System > Quotas in the left navigation of the editor.
Switch to the right pane and double-click Enable disk quotas. Select enabled and click on OK.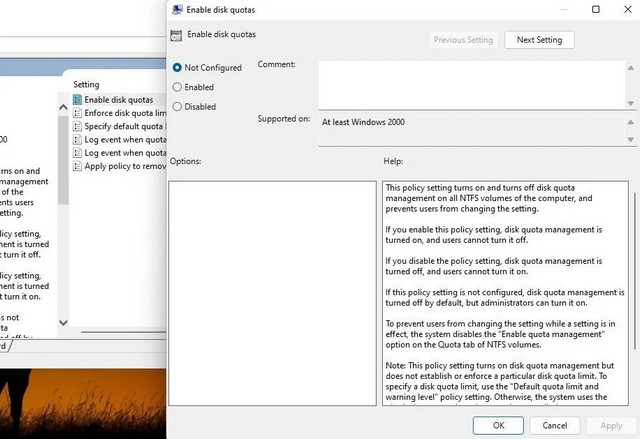 Do the same with the next option called Enforce disk quota limit.
Then double-click Specify the default quota limitselect enabled and enter a default quota limit in the lower left section. Click on OK to exit the window.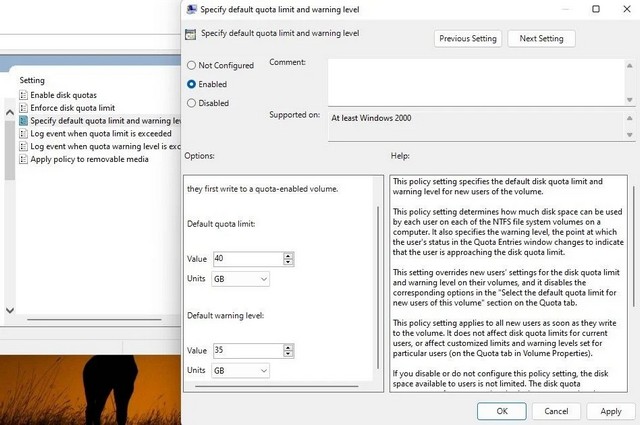 How to Configure Disk Quota Using Registry Editor in Windows 11
If you are using Windows 10/11 Home Edition, you will need to use Registry Editor as you will not have Group Policy Editor on your Windows. Before you start with this method, be sure to make a backup of the registry so that you can fix anything you accidentally mess up.
Start by pressing Win+Rwhile typing regedit and pressing In trance. This will open Registry Editor. Copy and paste the following into the navigation bar and press In trance :
ComputerHKEY_LOCAL_MACHINESOFTWAREPoliciesMicrosoftWindows NT
You will see a key called DiskQuota under Windows NTbut if you don't, you can always create a new one.
Create a new key under Windows NT and name it DiskQuota.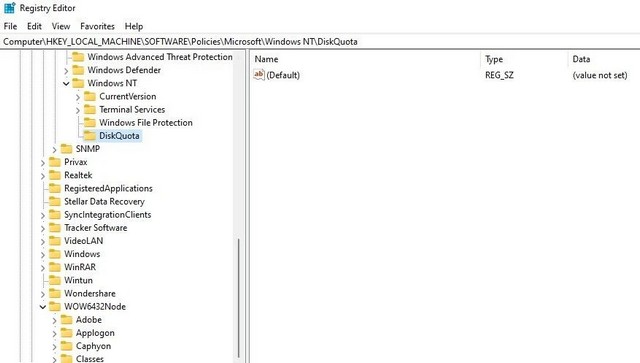 Switch to the right pane and right-click in the empty space. Create two new DWORD (32-bit) values ​​and name them Enable and In strength. Double click them one by one and change them value data in 1.Press OK and restart the PC to apply the changes.
You now control disk space
Configuring disk quotas gives you more control over how much storage space everyone uses on a PC. You will no longer be surprised by the annoying message from Windows telling you that there is no more space on the hard disk. However, if you are already running out of space, there are ways to recover some of your storage space by cleaning up your PC.
If you have any questions or suggestions, let us know in the comments. Also consult this guide if you want to learn how to partition your hard drive on Windows 11.