Tech News
How to Play Xbox 360 Games on PC with Xenia
It seems like yesterday we were fighting our way through the silent cartographer of Halo. And yet, it's been more than a decade since we got our hands on our beloved Xbox 360s. Unofficially, playing Xbox 360 games today is considered "retro gaming." You might forget about them, but that would also mean trying to let go of the fact that you were so close to completing Ninja Gaiden II. Or you can use the Xenia, as we'll see here, to play your favorite Xbox 360 games on your PC. So, let's explore how to make your PC Xbox 360 compatible using Xenia emulator.
What is Xenia?
Xenia is an Xbox 360 emulator, a program that replicates the Xbox 360 console in software form. The easiest way to describe it is that with Xenia you can play Xbox 360 games on your PC.
Fortunately, it doesn't have to be any more complicated than that. The creators of Xenia seem to agree since the spartan interface of the emulator only shows the essentials. As a result, Xenia is incredibly easy to use, as we'll see next.
Why are there two versions of Xenia?
When checking Xenia, you might notice two versions available. Besides the 'main', there is also a 'Canarian' alternative. What are these versions and which one to choose?
The short answer is "both".
The main version is the equivalent of a car you would use every day. It works as expected but lacks the latest and greatest features.
The canary version is like a racing car. It comes with industry-leading updates, which lead to more speed, better frame rates, and increased compatibility with select titles. At the same time, the same tweaks that make all of this possible could also lead to crashes and reduced compatibility in other games.
So you should get both versions and switch between the best ones for each title you play.
Why should I emulate with Xenia? Isn't it better to use the original material?
Unfortunately, if you want to replay old classics, Microsoft has since discontinued the Xbox 360 console and its peripherals. Worse still, early batches of Xbox 360s were prone to crashing after overheating. So you might end up with a collection of Xbox 360 titles but no way to play them.
You can buy any of the new Xbox consoles, but they're backward compatible with some titles from the Xbox 360 library. Your favorite games might not be among them.
How can I play Xbox 360 games with Xenia?
Start by downloading the client from Xenia official website. Instead of having to go get it later, it's better to also download the Canary version of Xenia in parallel from the Xenia Canary page on Github.
Both versions are delivered in ZIP archives instead of installation levels. Thus, you will have to manually extract them to a folder to use them.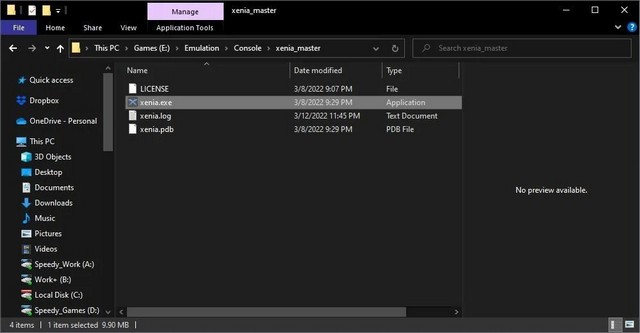 For easier access, we suggest creating shortcuts to their executables on your desktop.
Start by running the version teacher main of Xenia. Xenia does not offer the "display settings" you would expect to find in a modern emulator. However, it does support scaling and sharpening to enhance Xbox 360 visuals. To enable them, choose Settings from post-processing in display.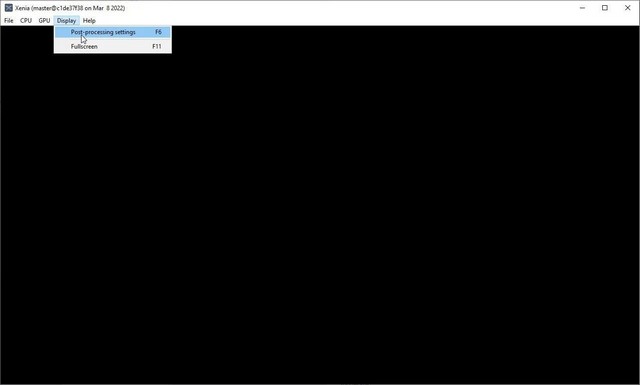 Xenia authors suggest enabling one of two modes NVIDIA Fast Approximate Antialiasing with one of AMD FidelityFX sharpness solutions for smooth yet crisp visuals.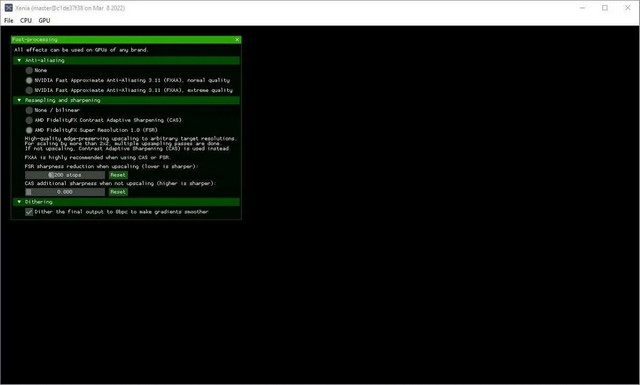 The extreme quality of FXAA and the modes Super Resolution 1.0 (FSR) from FidelityFX are more demanding on the GPU and should produce better visuals. However, there are exceptions: some games may already implement similar visual enhancements. In such scenarios, reducing or disabling sharpening and scaling helps prevent blurry or "jagged" graphics.
Unfortunately, it all depends on the title you're playing, so you won't be able to avoid re-tinkering with these options in the future.
How to play a game with Xenia
To play a game with Xenia, you must have it on your storage as an ISO backup. There are ways to create such backups from your original Xbox 360 DVDs using either an original console or a compatible DVD player/burner. However, that is a subject for another article. So, we'll skip it for this one and assume you have Xbox 360 ISO files lying around.
Choose file > Open and point the requestor to your game's ISO file. Choose it and presto, play!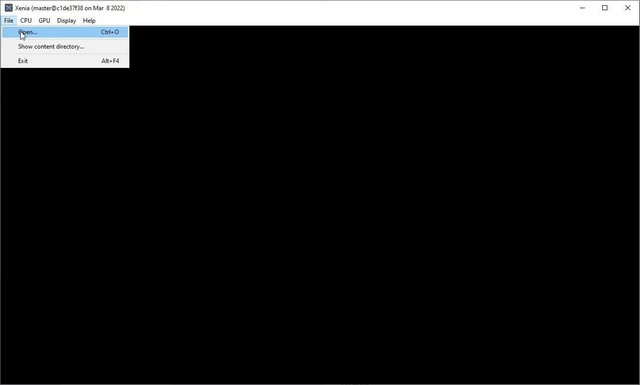 Yes, it's as simple as that: no other options to configure, nothing else to modify. But also, yes, there are some caveats.
Xenia also assumes that you will be using a Windows HID compatible joypad. Ideally an Xbox 360, which has been considered standard for Windows since Windows 7. The operating system comes with drivers for Microsoft's own joypads. You can use both those designed for Windows PCs and those designed for the console. In the latter case, you will need to connect them to your PC with a wireless receiver.
With the game loaded and running, you can only hope for the best.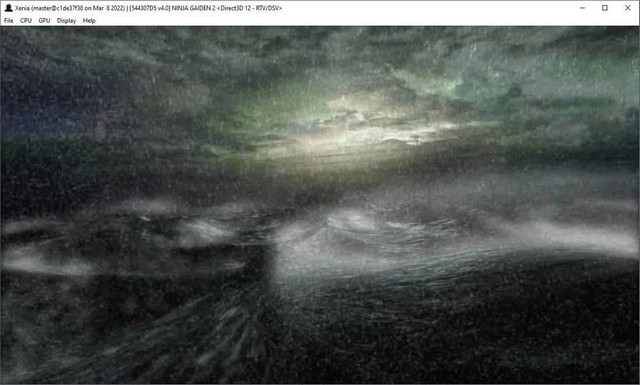 This is because Xenia compatibility is a bit hit and miss. In the screenshot above, you can see Ninja Gaiden 2. Its initial cutscenes run smoothly, but that's where the good stuff ends.
When the model for the first character appeared on our screens, it looked like someone's eye was about to fall out.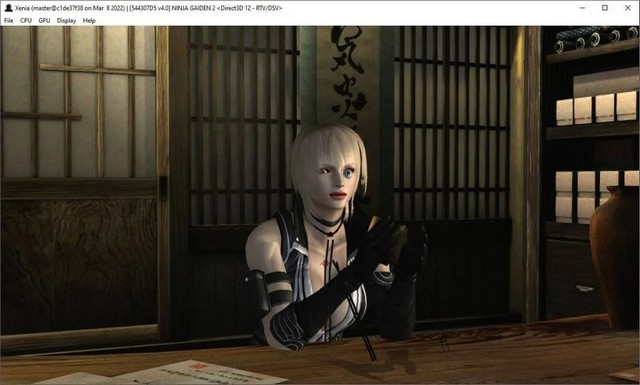 As we have seen in the past, when emulating a Commodore Amiga on your PC, compatibility is no longer an obstacle. Amiga emulators have matured enough to tackle almost anything you throw at them Amiga-related.
However, when emulating the Xbox 360, there's not much you can do if a game isn't working. Moreover, Xenia does not offer any options to get you out of such problems.
You can try Canary as a possible solution. Some of the latest updates and fixes it contains might be just what the doctor ordered to keep your game running.
Unfortunately no, for anyone interested, in our case on Xenia master c1de37f38 and Xenia canary 0636ec3b9 Ninja Gaiden II kept bugging.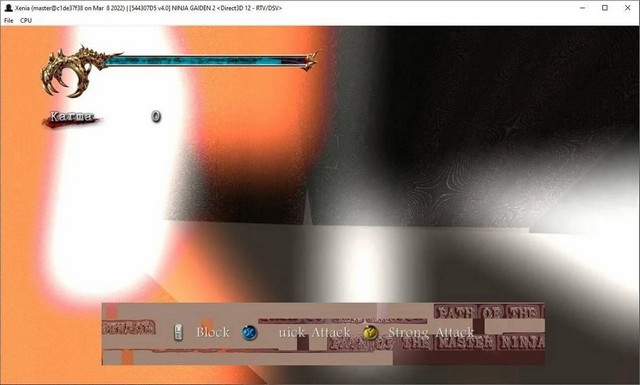 Dante's Inferno entered the game and we were able to play at its introductory level until it also crashed, unfortunately. The much-loved XBLA classic, Bionic Commando: Rearmed, performed almost flawlessly.
Now that you have tried your first emulated games.
Can I play any game I want?
Xenia is in active development and not a final product. Thus, it is not yet compatible with the entire Xbox 360 library.
Some games display visual bugs, lack sound or "crash" the emulator. Others run slowly, even on high-end hardware, requiring further optimizations. However, many titles already work almost flawlessly as if they were native PC ports.
You can check the status of most titles at the Xenia compatibility list. You should visit it to find more information about any game you want to play. Some currently incompatible titles can be made playable with some tweaks or in earlier versions of the emulator.
You can search for any title using its name to find more information about it.
Note that you may find more than one entry for some titles, depending on their region. These titles could have been released with minor adjustments for different regions. For example, a European release may have more languages ​​and additional DLCs than its North American iteration. And, precisely because of these differences, be incompatible with Xenia.
Alternatively, you can use the labels on the top right to filter the Xenias compatibility list. Search, for example, "label:state-playable", to list only playable titles from beginning to end.
Conclusion: Playing Xbox 360 Games on PC
As we've seen, playing Xbox 360 games on your PC with Xenia couldn't be easier. You just have to launch one of the two variants of the emulator, choose your game, and in a few seconds you should be playing.
When this is not possible, the solution is just as simple: wait. There is nothing more to do on the user side, so we can only wait for Xenia's code helpers to further improve its compatibility and performance.
Fortunately, it can already play enough Xbox 360 titles to keep us busy until it reaches 100% compatibility.
If you have any questions or suggestions, let us know in the comments. Also consult this guide if you want to learn how to play android games on your pc.