Tech News
How to merge multiple PDF documents into one?
Would you like to combine several separate documents into a single PDF file, but you don't know how to do it? Know that there are two ways to get there. The first involves the use of an online service and the second, the use of specialized software to be installed on your computer beforehand. Whichever method you choose to use, you will find in this tutorial the path to follow to get there. here's how merge multiple PDF documents into one.
How to merge multiple PDF documents online?
If your need to merge several PDF documents is occasional, you can choose the online service. The advantage with sites that provide this type of service is that they are accessible from any terminal with a web browser, regardless of its environment (Windows, macOS, Linux, Android, iOS).
Likewise, these sites – which offer merging PDF files in seconds – are numerous and most of them can even be used for free and without prior registration. This is, for example, Adobe, SmallPDF, CombinePDF and SodaPDF. However, the most advanced features of these platforms are only available to subscribers.
To merge PDF files on a platform like Adobe, you need to follow the steps below.
Step 1: Access the Adobe page dedicated to merging PDF documents
To combine your documents into a single PDF file using an online service like Adobe, you must open your favorite browser (Chrome, Mozilla, Microsoft Edge, etc.), enter in its address bar validate the request.

Step 2: Upload your PDF files to the platform
Once the Adobe merge page appears, click " Select files".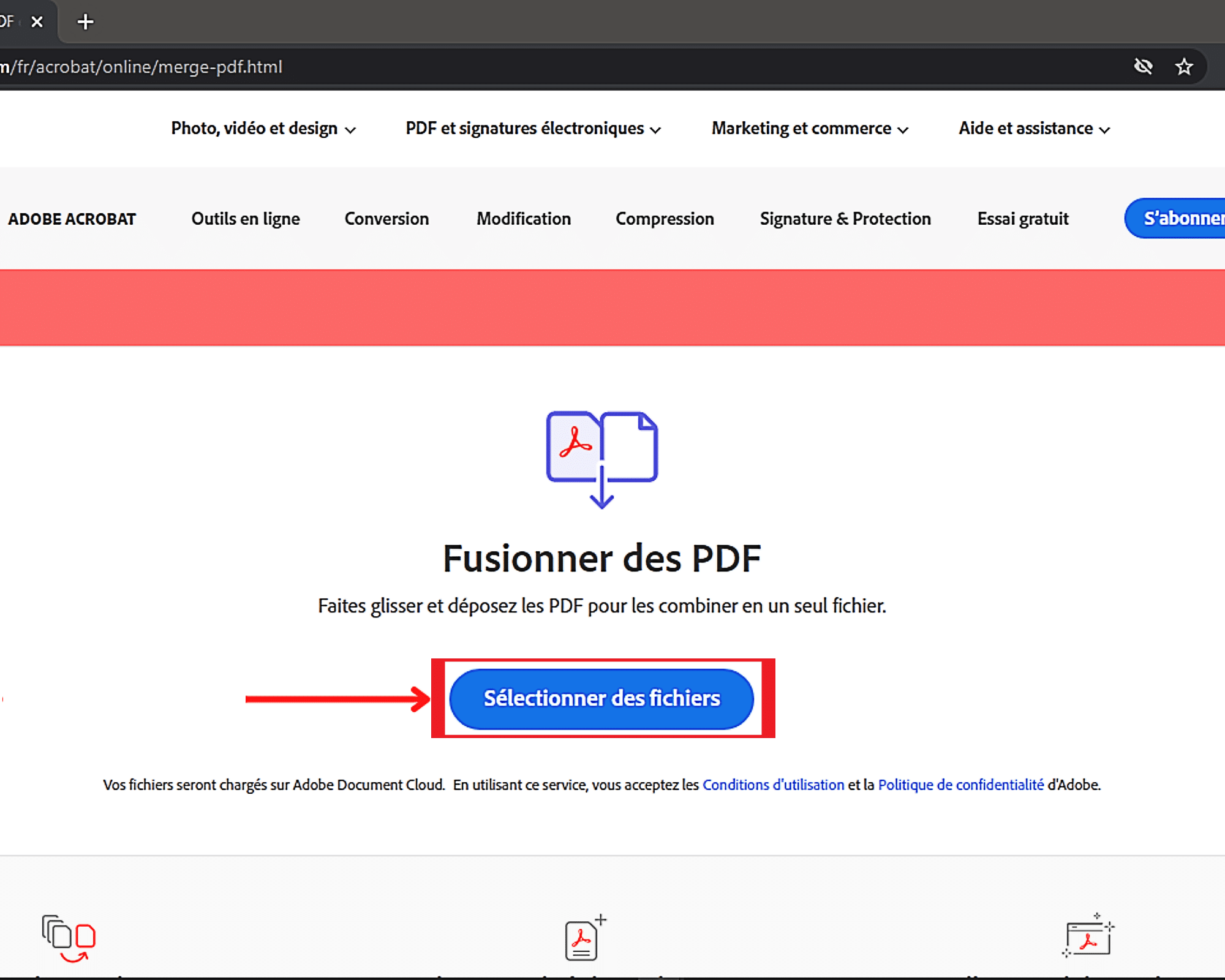 One pop up should now appear. Navigate through your folders and files to select and upload PDF documents to merge. You can make a multiple selection by holding down the " CTRLon your keyboard when choosing each PDF document.

Click on " Open", once the selection is complete, to begin uploading the PDF documents to be merged on Adobe. Depending on the size of the files and the speed of your internet connection, theupload may take some time.
Step 3: Start merging PDF documents into one
At the end of the upload, the file names should systematically appear on the loading page. If you read them, then that means you can move on to the next step. To do this, click on the " merge".
But before that, you can change the order of the documents if you want. All you need to do to achieve this is long left click on the file you would like to move up/down and then move your mouse to the targeted location. Do not hesitate to repeat the operation if necessary in order to obtain an impeccable PDF document merger.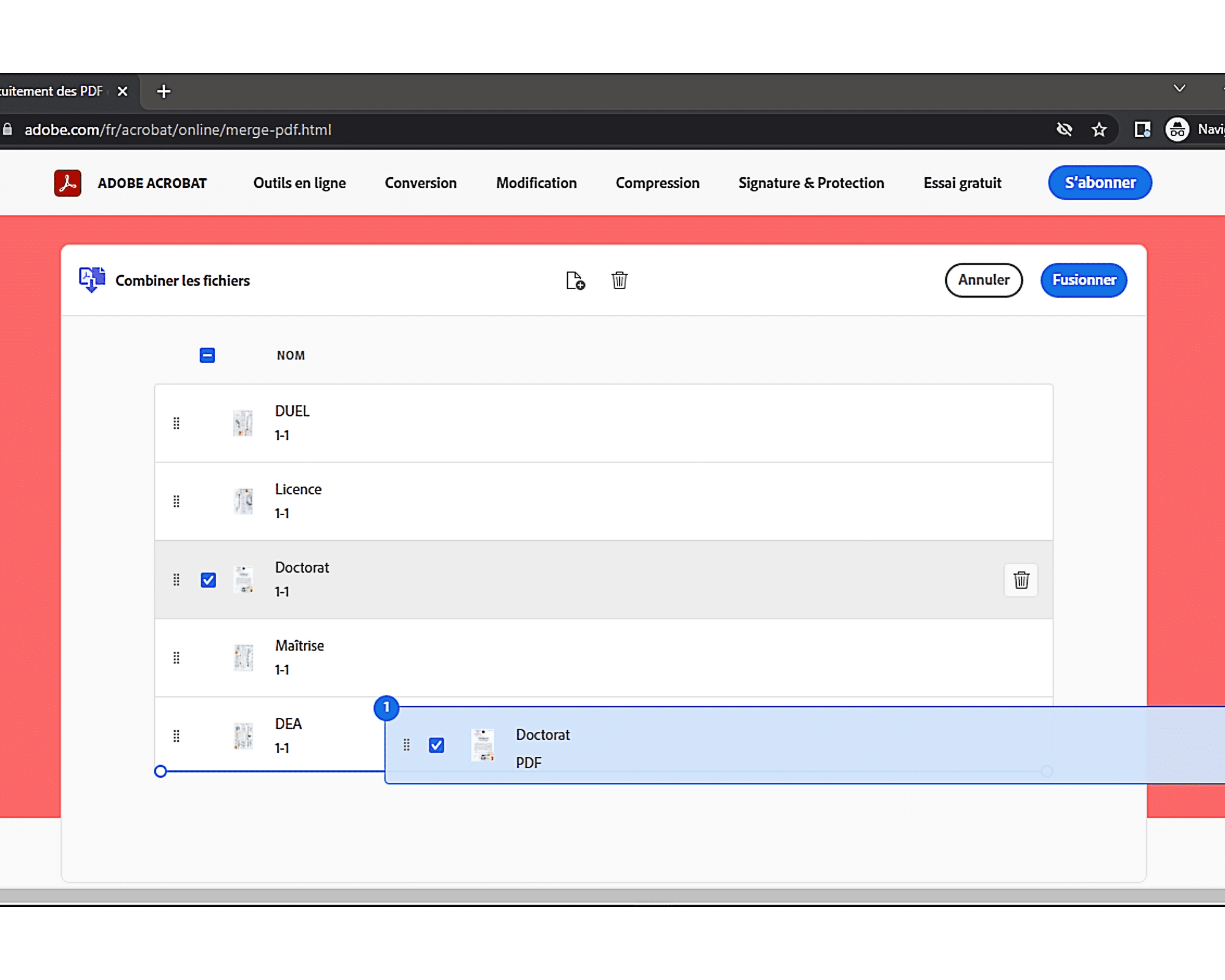 After changing the order of PDF documents, make sure no files are checked and then click " merge".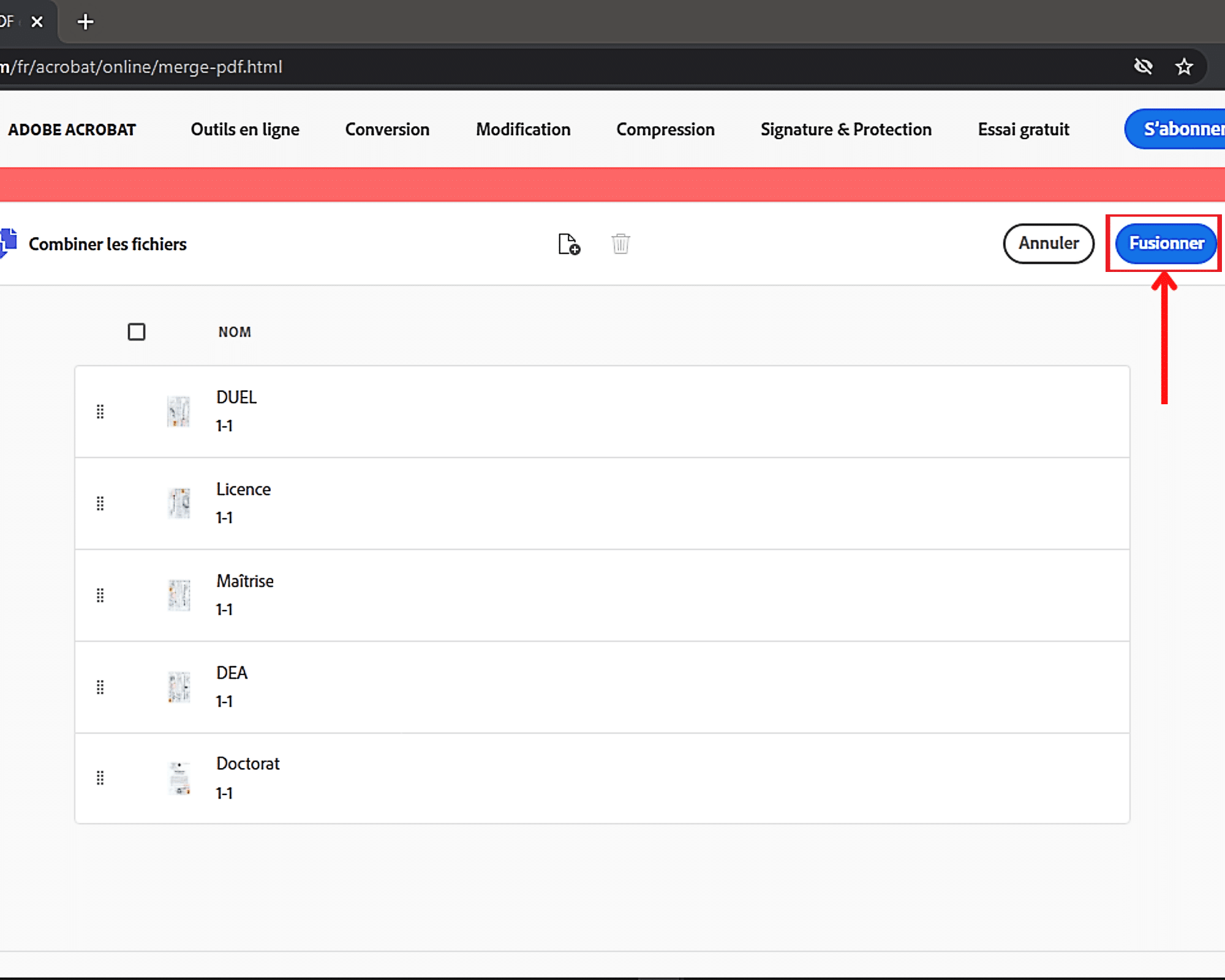 On the new page that has just been displayed, a small preview of the pages of your document is given to you. But to download the merged version of your PDF documents, you need to sign in to Adobe. To do this, you must click on "Login" which is located just below the " To download".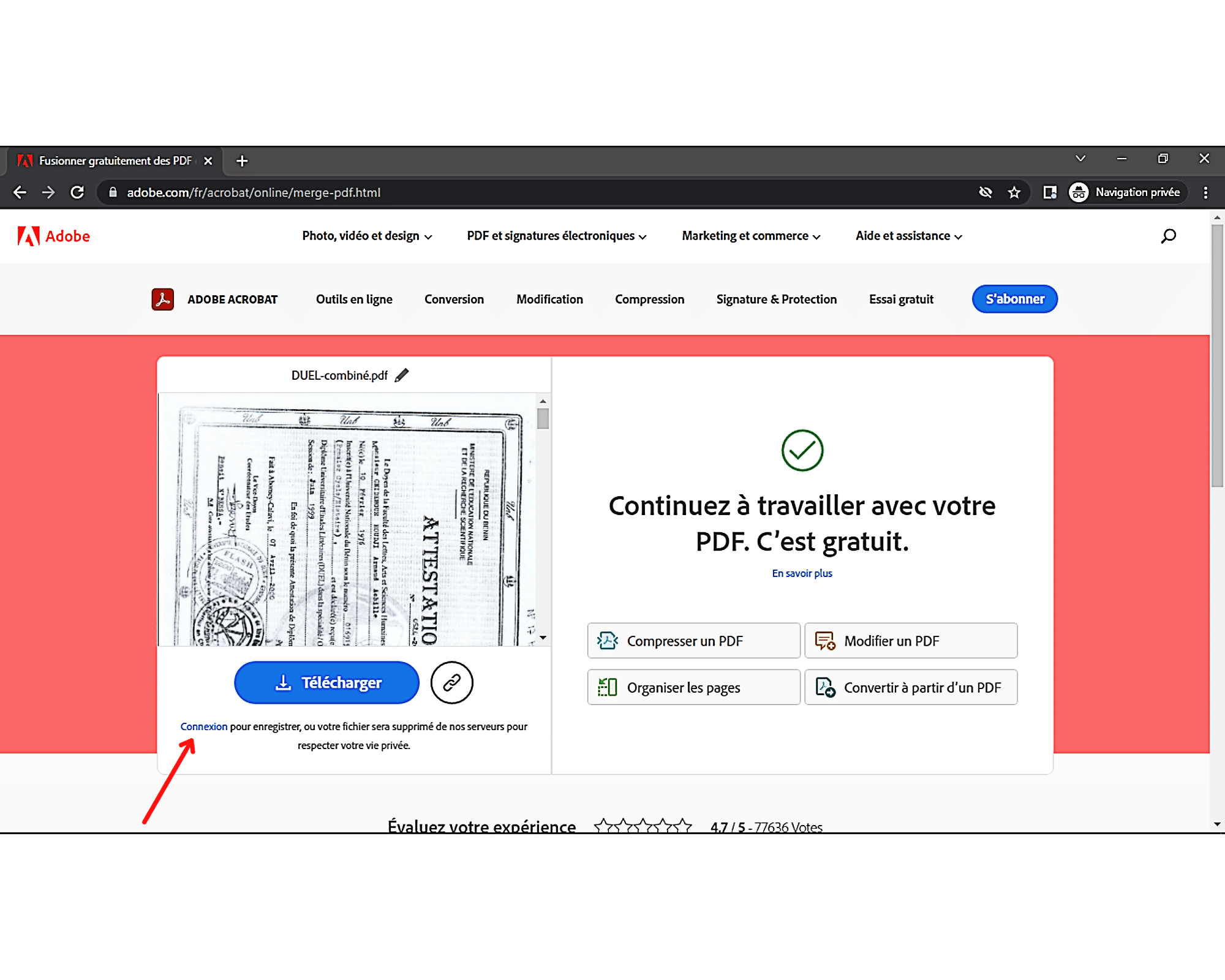 You don't have an account on this platform? No problem, you can set one up in a matter of moments using one of the quick sign-up procedures there.
Once you have registered or logged in, the compiled file is automatically transferred to your account. Then all you have to do is download it. You can do this from the Adobe homepage. You will indeed find a section dedicated to recent files.
Left-click on the options button, ie the ellipsis which is at the right end of the compiled file.
Then choose from the many options available. To download". You may have to scroll down to find the file download option. Once done, click on it and save the file to a location of your choice on your computer.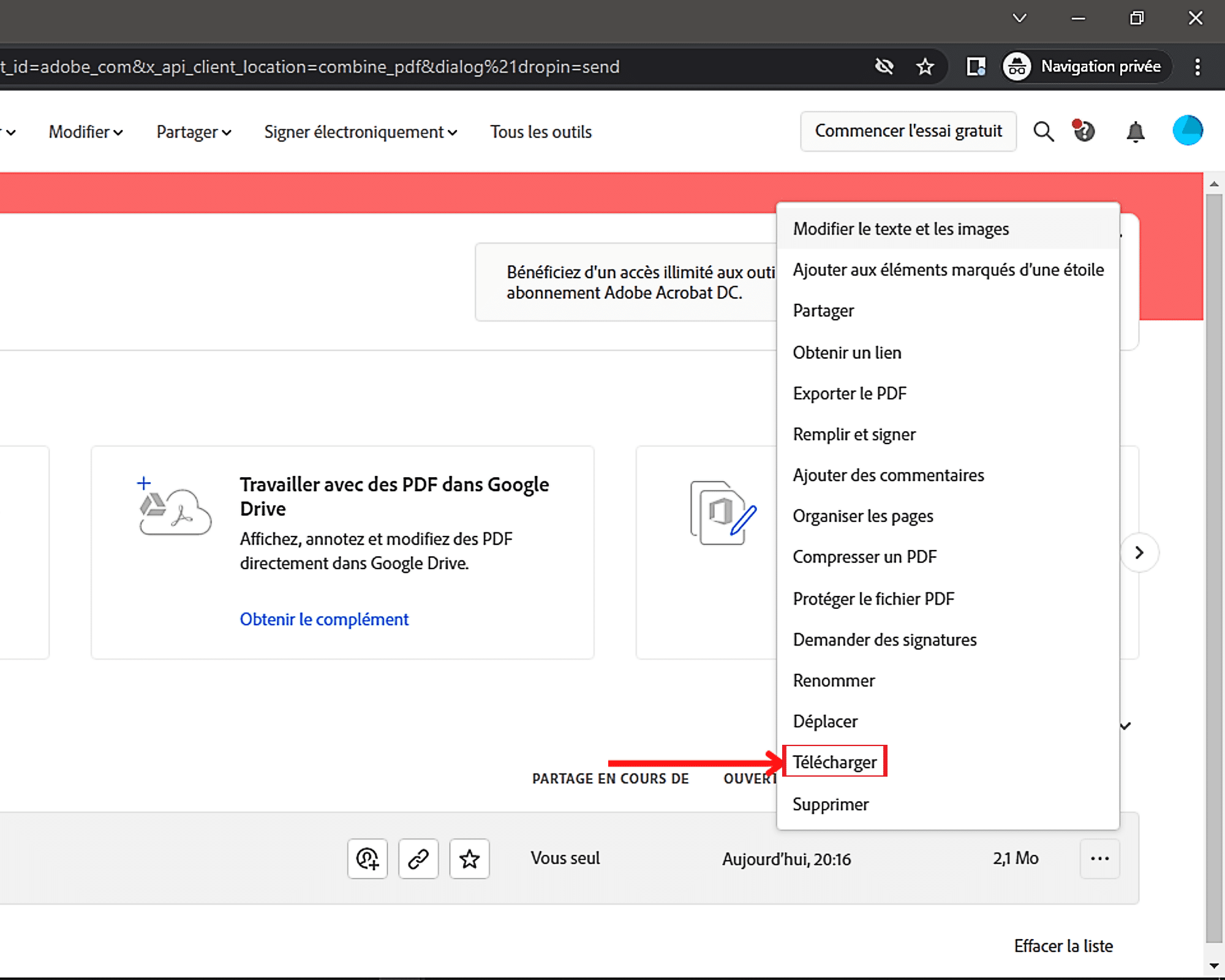 Congratulations! you have successfully merged your PDF documents. But for your safety and that of your private documents, you must absolutely avoid uploading confidential files online.
It is true that sites that offer this type of service promise to delete all your files from their servers after processing them. However, there is no evidence that copies of said documents do not exist elsewhere. If you cannot do without this feature, then the best thing to do in this case would be to use an offline solution installed on your computer.
How to merge multiple PDF documents offline?
The solutions to merge several PDF documents offline are multiple, but they are not all free. Among those that can be used free of charge are: PDFCreator. In addition to converting all printable files (Word, image, etc.) to PDF, this software allows you to merge several PDF documents into one. Here's how to use it for that purpose.
Step 1: Download and install PDFCreator
The PDFCreator application is currently only usable on Windows. To install it, you must first download it. His setup is available here and on many other websites. Once in your possession, double-click on it and authorize the installation. Once done, the program installation window should now appear. Click on " To install" which is at the bottom right.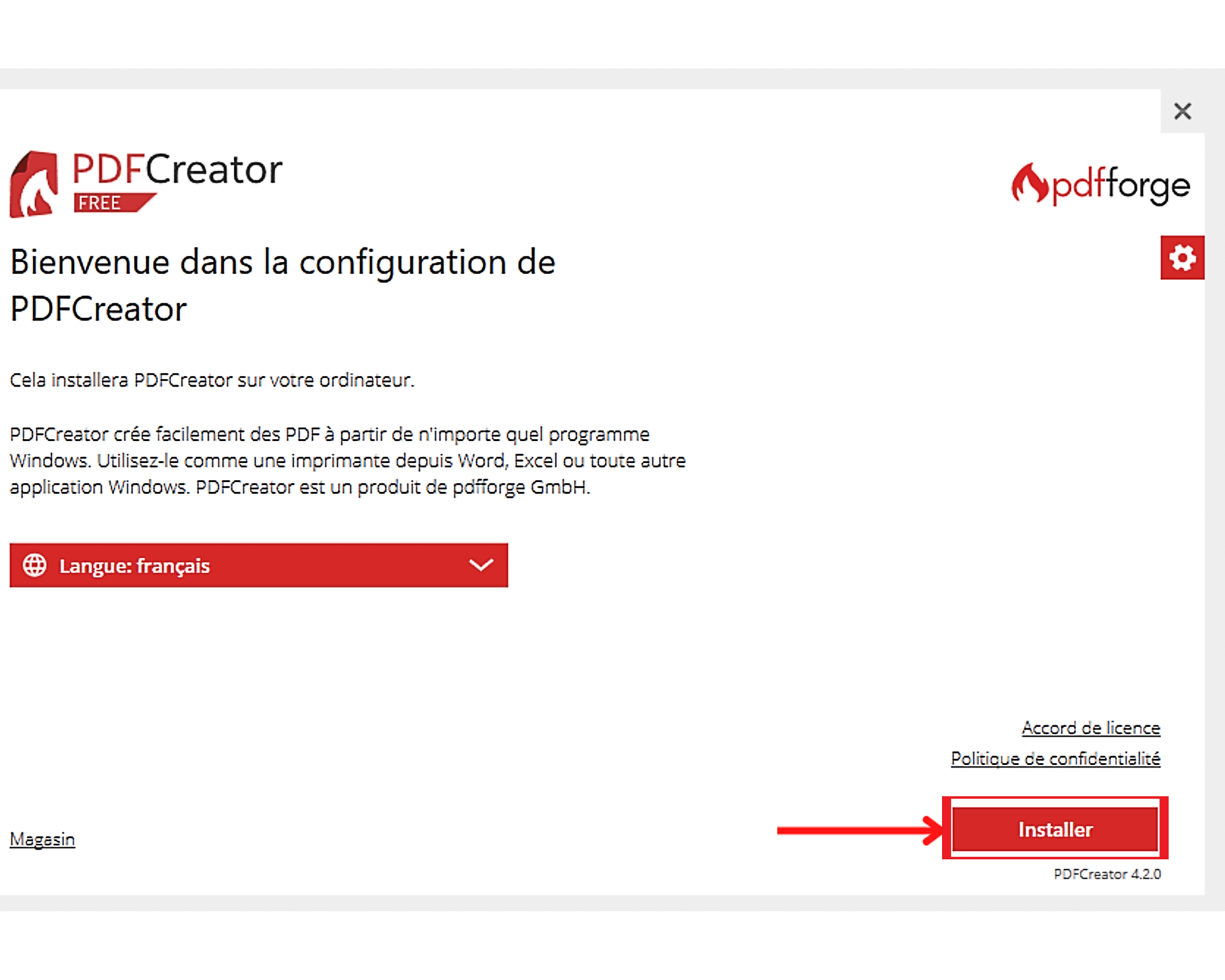 Then wait while PDFCreator installs on your PC.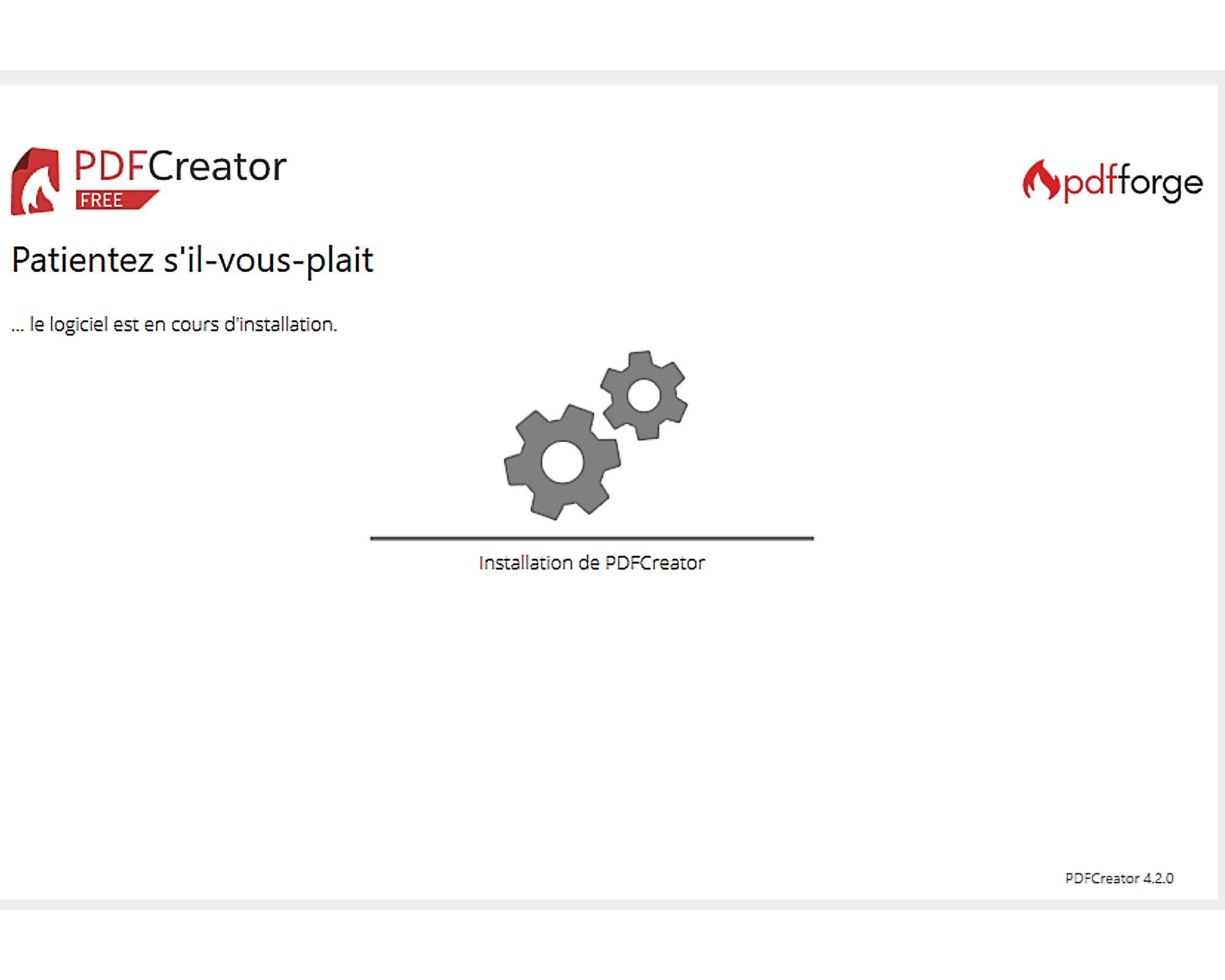 Step 2: Run the app
Once the PDFCreator installation is complete, run the application. You can do this in different ways:
from the tool installation window by simply clicking on " Start PDFCreator» ;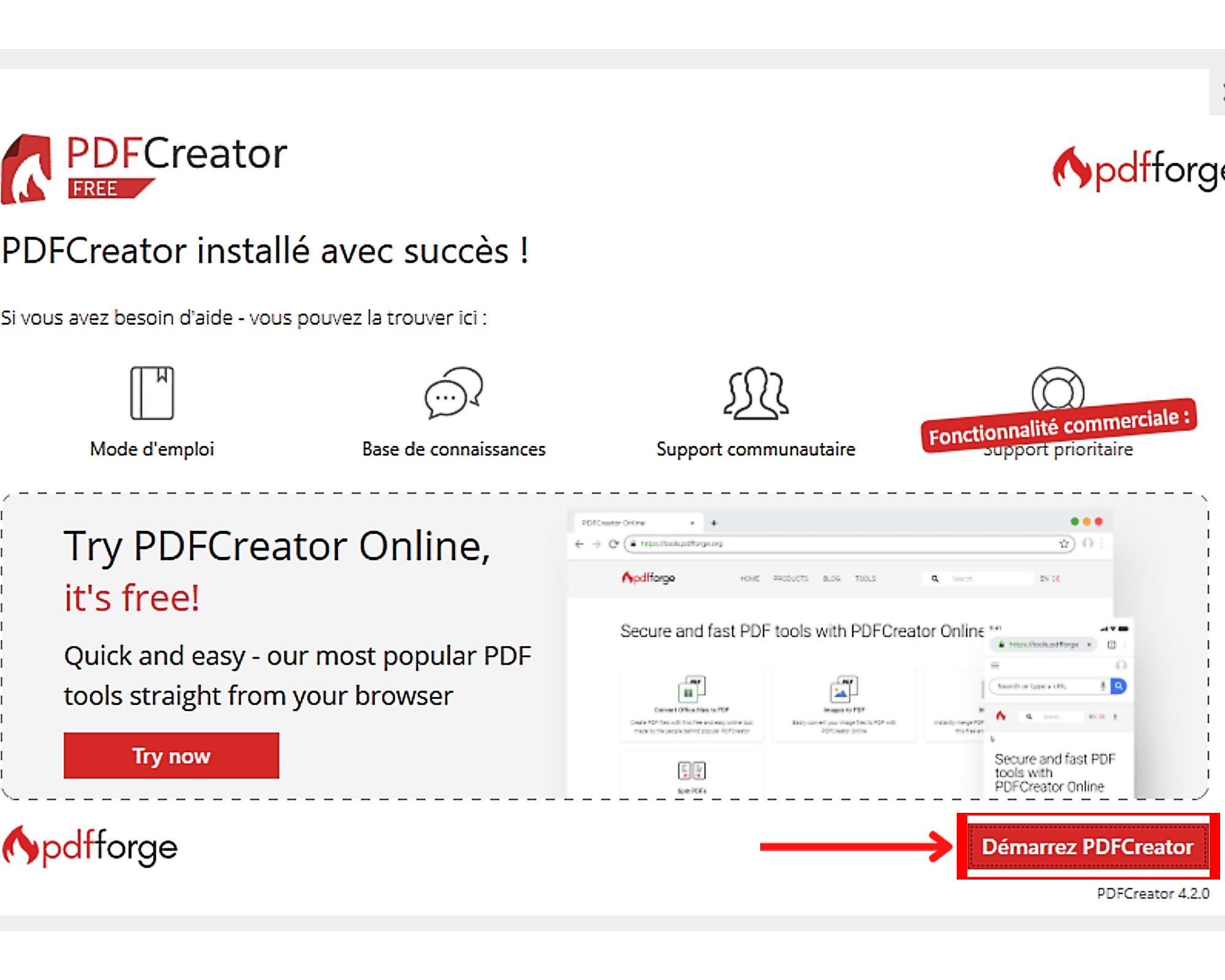 from the desktop by double-clicking on its shortcut;
through the "Start" menu.
After starting the program, close it.
Step 3: Merge multiple PDF documents with PDFCreator
To merge multiple PDF documents with PDFCreator, you must:
Access the PDF files you want to compile into a single document from Windows Explorer. Then select the set of documents to merge. To make a multiple selection, simply hold down the "CTRL" key on the keyboard when choosing each file.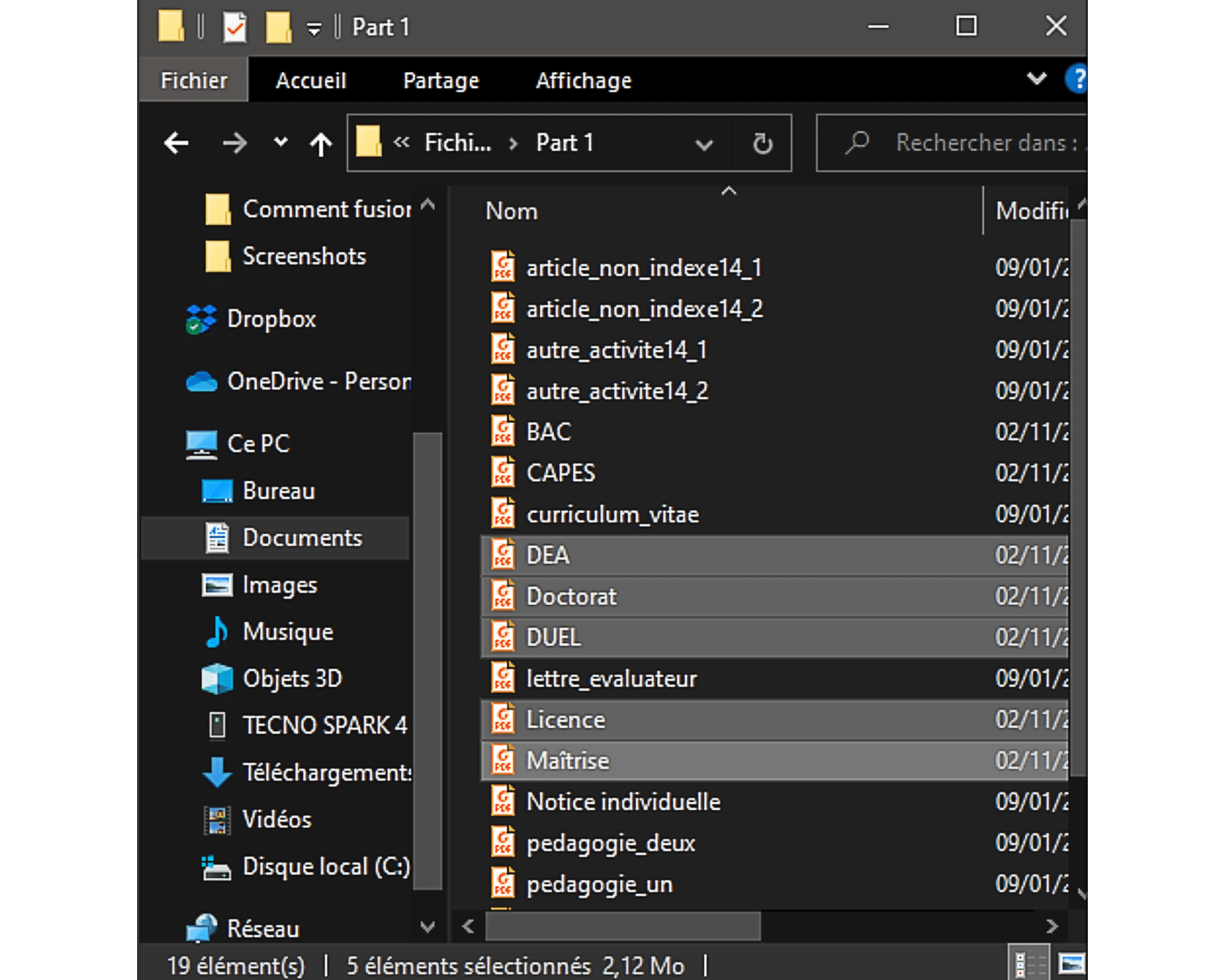 Once the selection is complete, right-click on it and choose from the options given, " merge".
PDFCreator should now run loading said files for possible merging.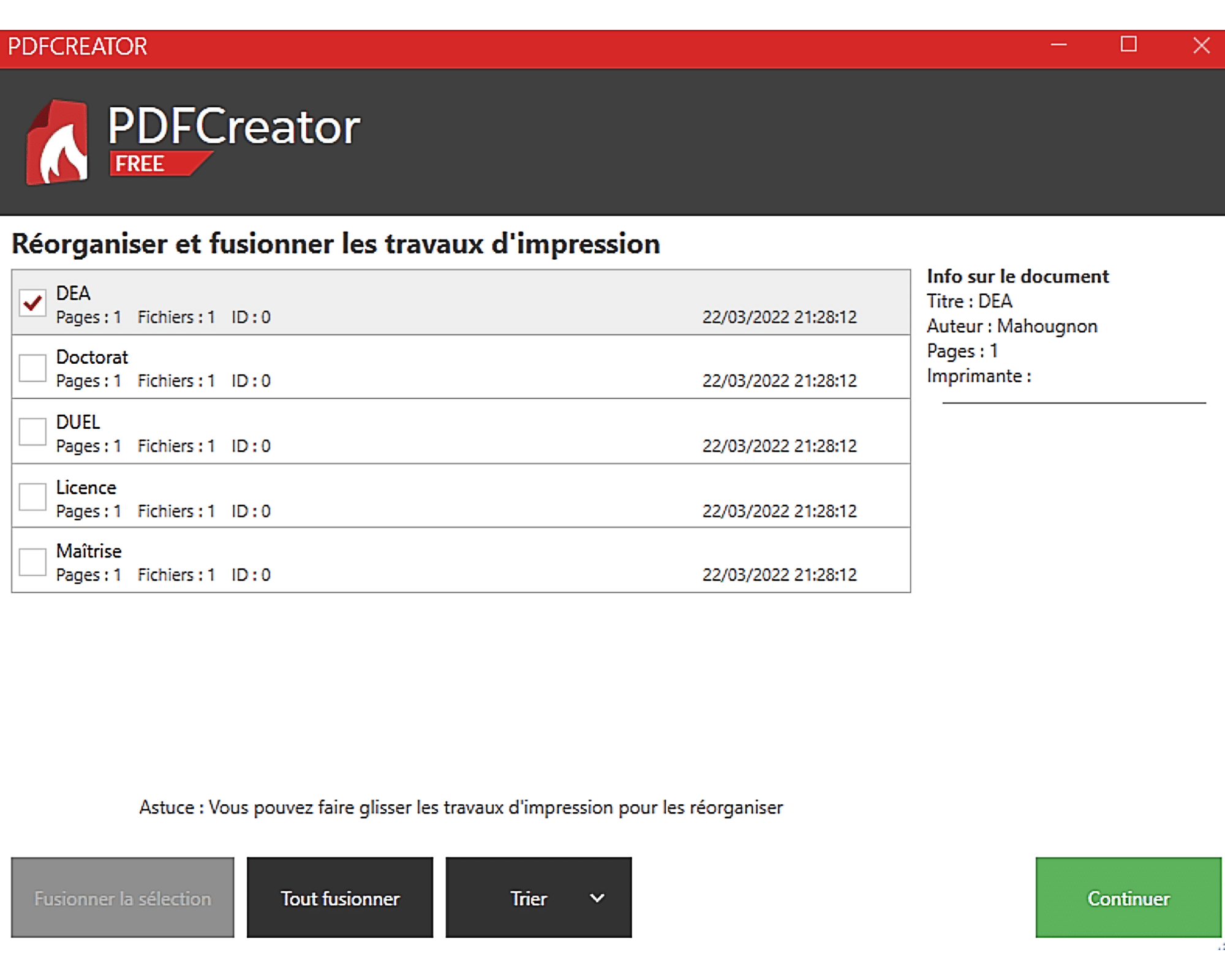 You can rearrange them by dragging them up or down. Then, launch the document merge by first clicking on " Merge All".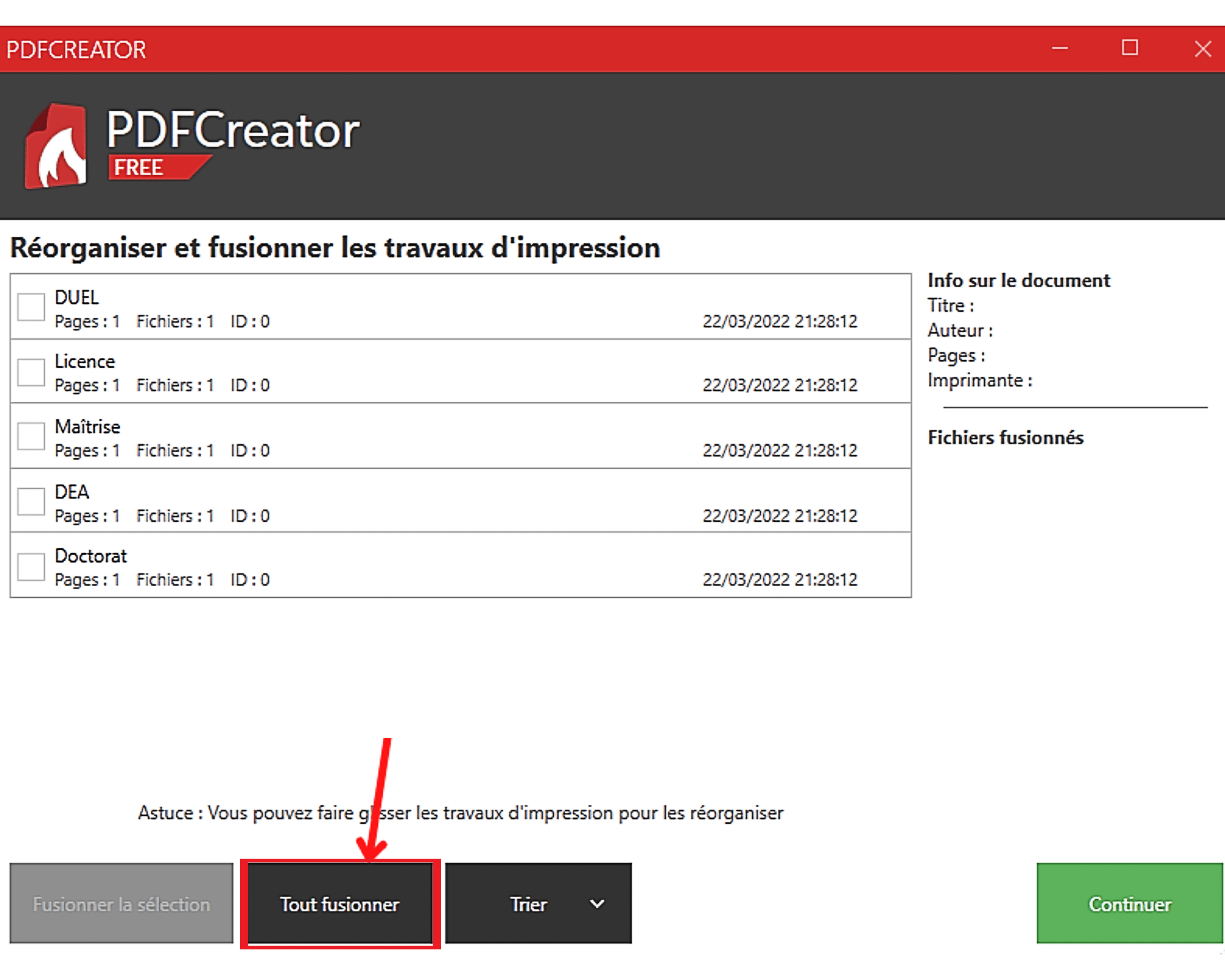 Then click on " to continue".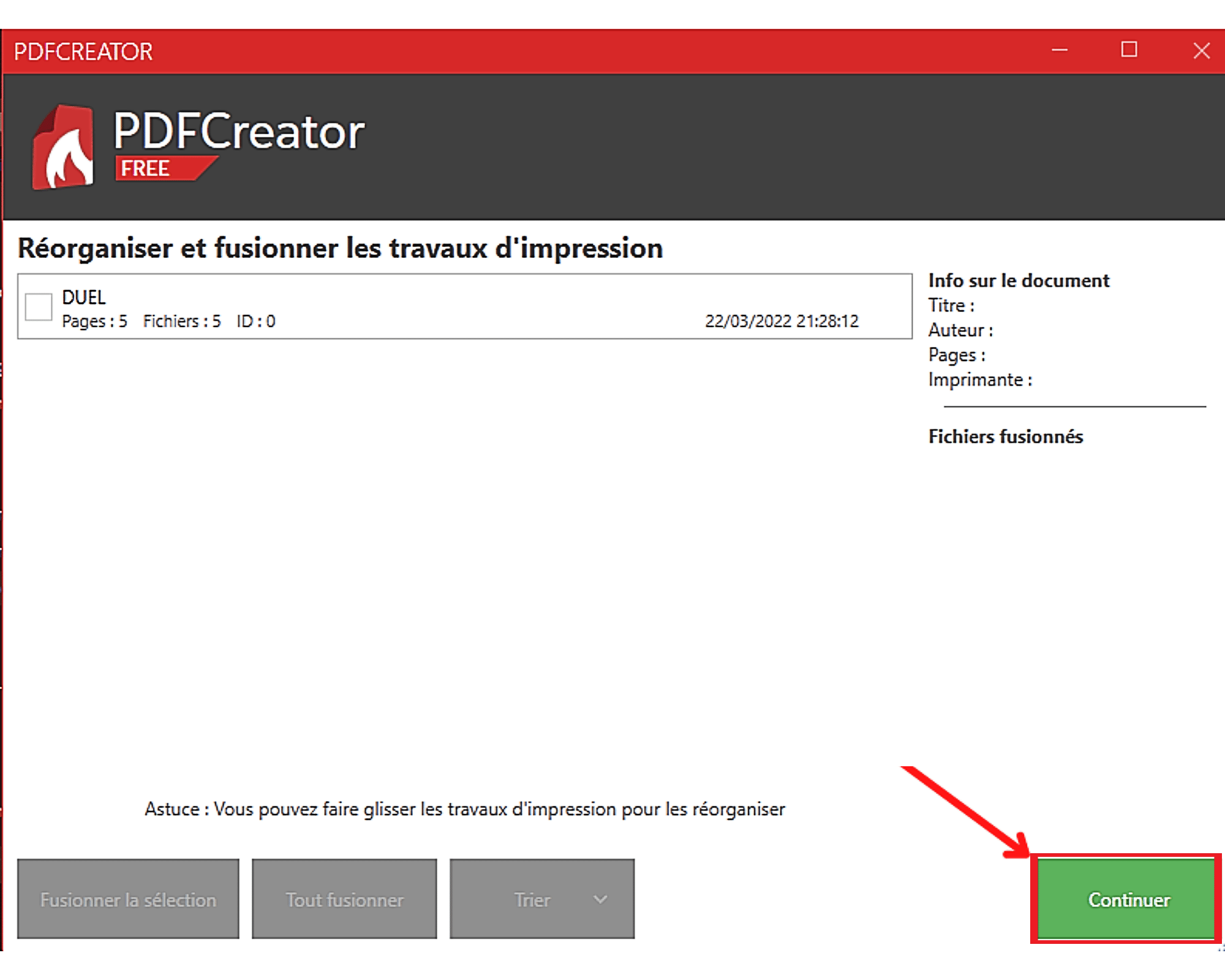 A new window should now appear. In it, you can rename the resulting file from the merger, give it a title, specify the name of its author, etc. Once all the important information has been provided, click on " To safeguard» which is in the lower right tab.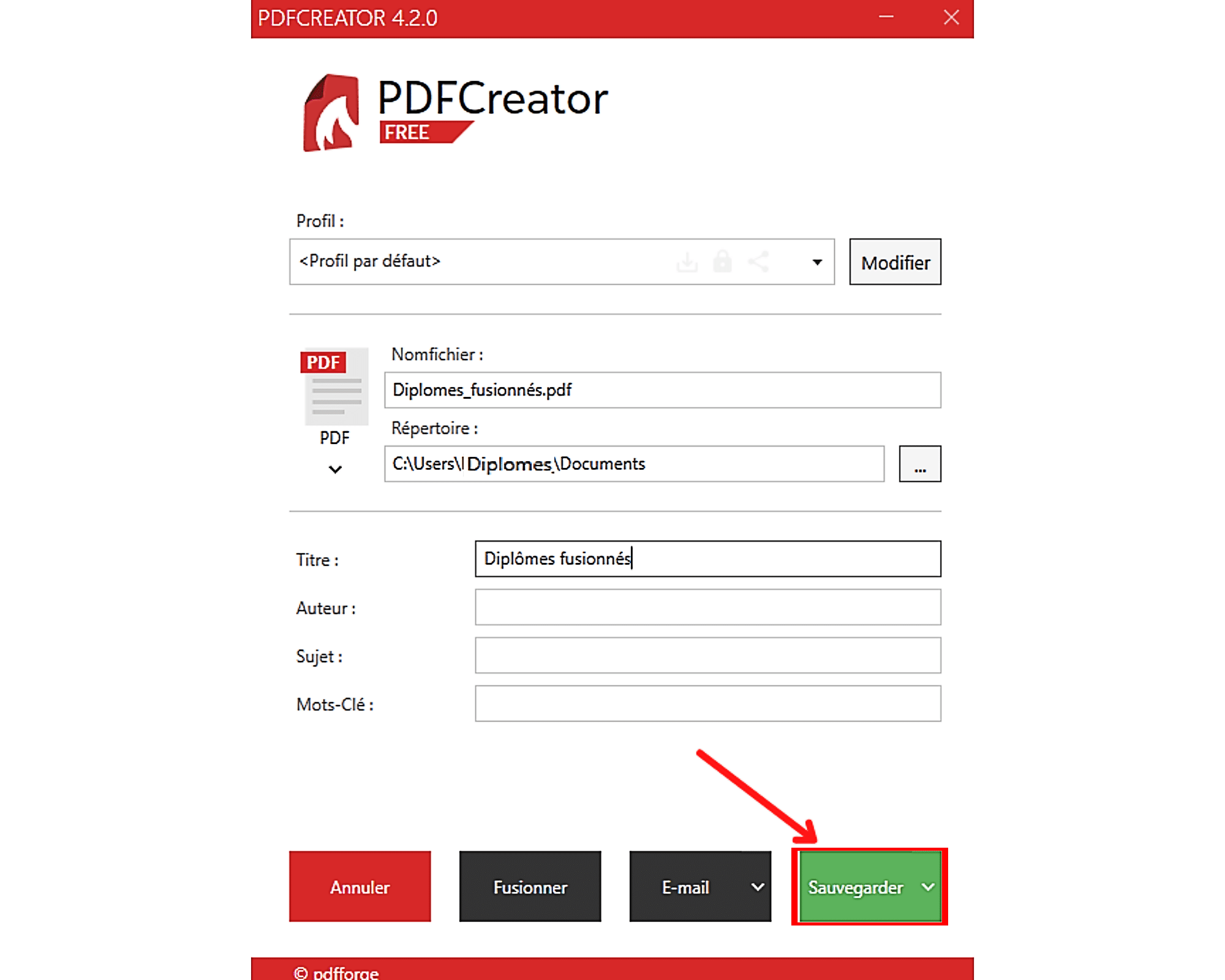 Complete the operation by clicking on " okayin the new window that appears on the screen.