Tech News
How to choose a legacy contact for the legacy of his Facebook account?
In the same way that you can bequeath your financial and material assets after your death, you can also bequeath your digital data or digital platforms to a third party after your death. If you are a Facebook user, we will speak of a legacy of your Facebook account if you choose to give it as a digital inheritance to someone after your death. This will become your legacy Facebook contact or your Facebook heir.
What is the role of such a person and how to configure on Facebook to add someone as heir to his account?
What is a Facebook Legacy Contact?
A Facebook Inheritance Account or Facebook Legacy is someone you choose during your lifetime to become the administrator of your Facebook page and/or account after your death. In the past, this type of granting administrative rights was not feasible. It was only possible to turn a deceased person's Facebook account into a memorial account.
This was done by asking Facebook to turn the dead person's account into a "virtual memorial" page. Thus, it was possible to see "Remember" next to the profile name of the deceased on his old profile. However, Facebook now offers the possibility for any user to choose a Facebook legatee after his death, provided that he is at least 18 years old and himself a Facebook user.
When the legatee takes full power as manager of your account after your death, he can perform various actions on the account to keep it active. His role of him is (if he accepts it) to perpetuate your memory in the hearts of your subscribers through your digital heritage. However, there are confidentiality boundaries that he cannot cross. He therefore does not have free access to all the information of the bequeathed count.
Also, be aware that designating someone as your Facebook legatee is a big decision that requires the person chosen to be mature enough to take on such a responsibility.
How to name a Facebook legatee from your phone?
Once you have obtained the agreement of your future legatee contact, you can then follow the following steps to name him using your mobile phone.
Go to your Facebook account via mobile and click on the three lines located in the upper right part next to the notification bell.
On the page that appears, scroll down and click on "Settings and privacy".
Continue by tapping "Settings" in the list that appears under "Settings and privacy".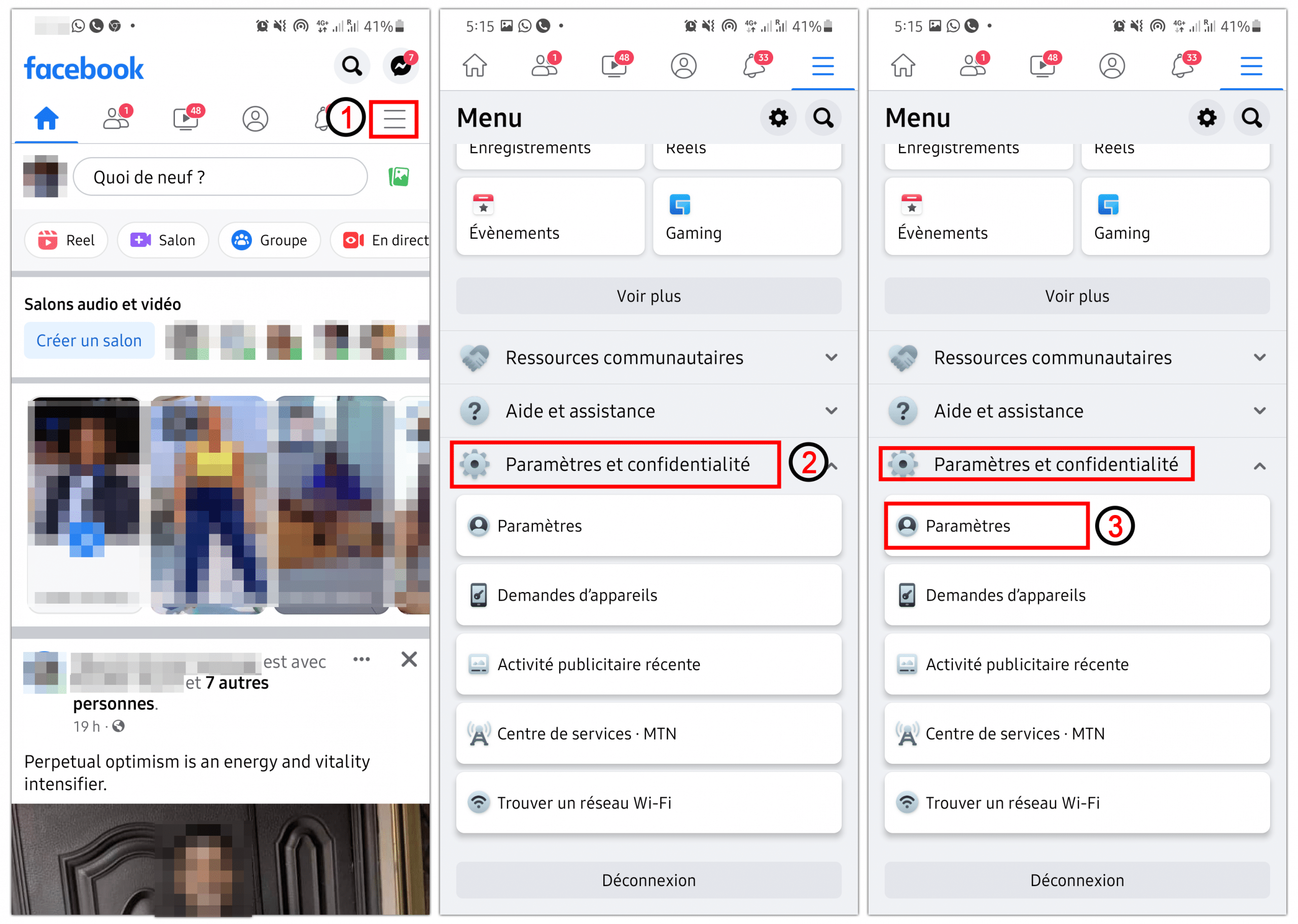 Now click on "Personal and account information".
Choose the "Account Properties and Control" option.
Then tap "Commemoration Settings".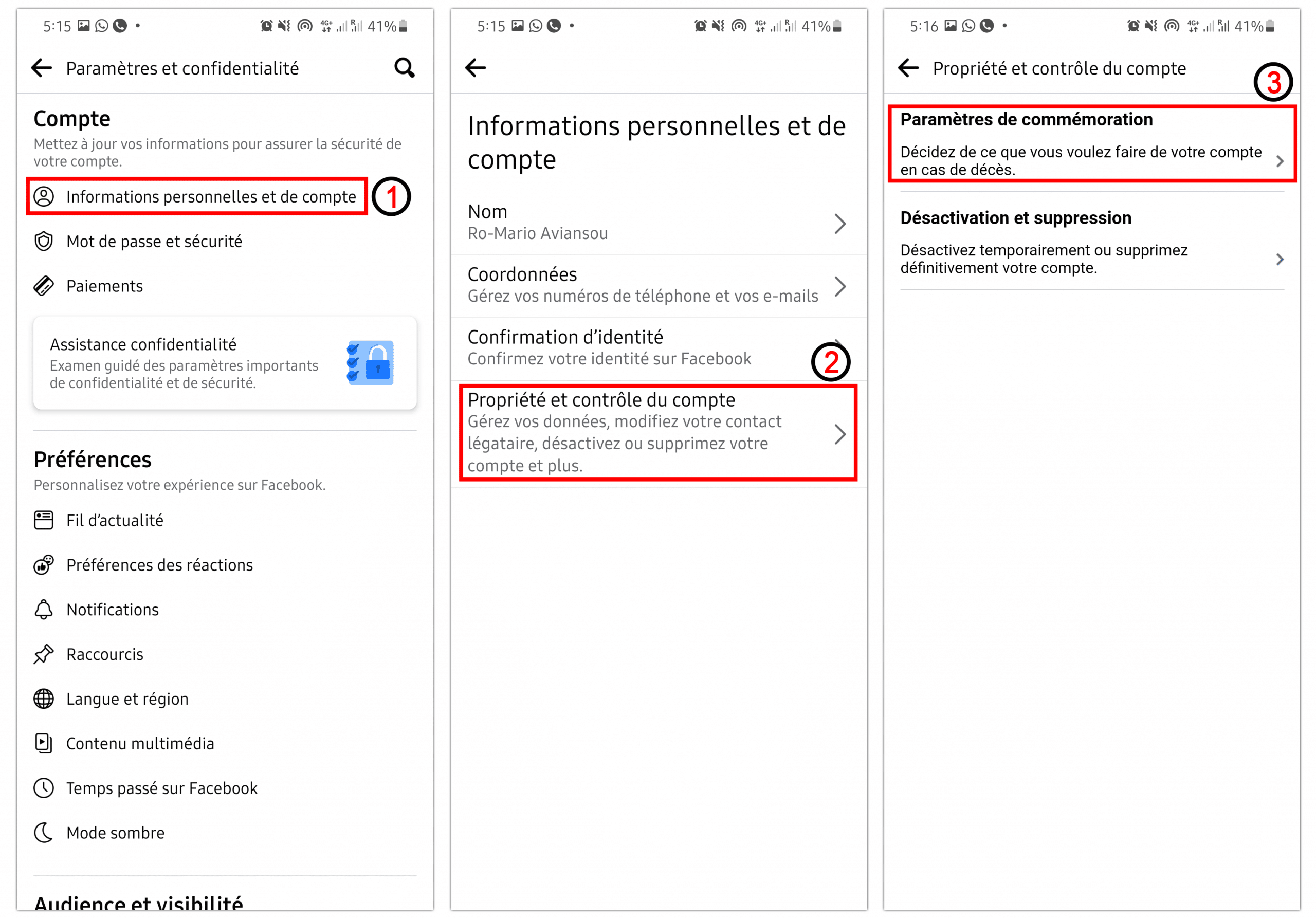 Scroll a little down the page that appears and press "Choose a legacy contact".
Read the Legacy Contact role description on the next page and click "Next" when finished.
The next step will be to type in the name of the person you want to appoint as a legacy contact (their name on Facebook).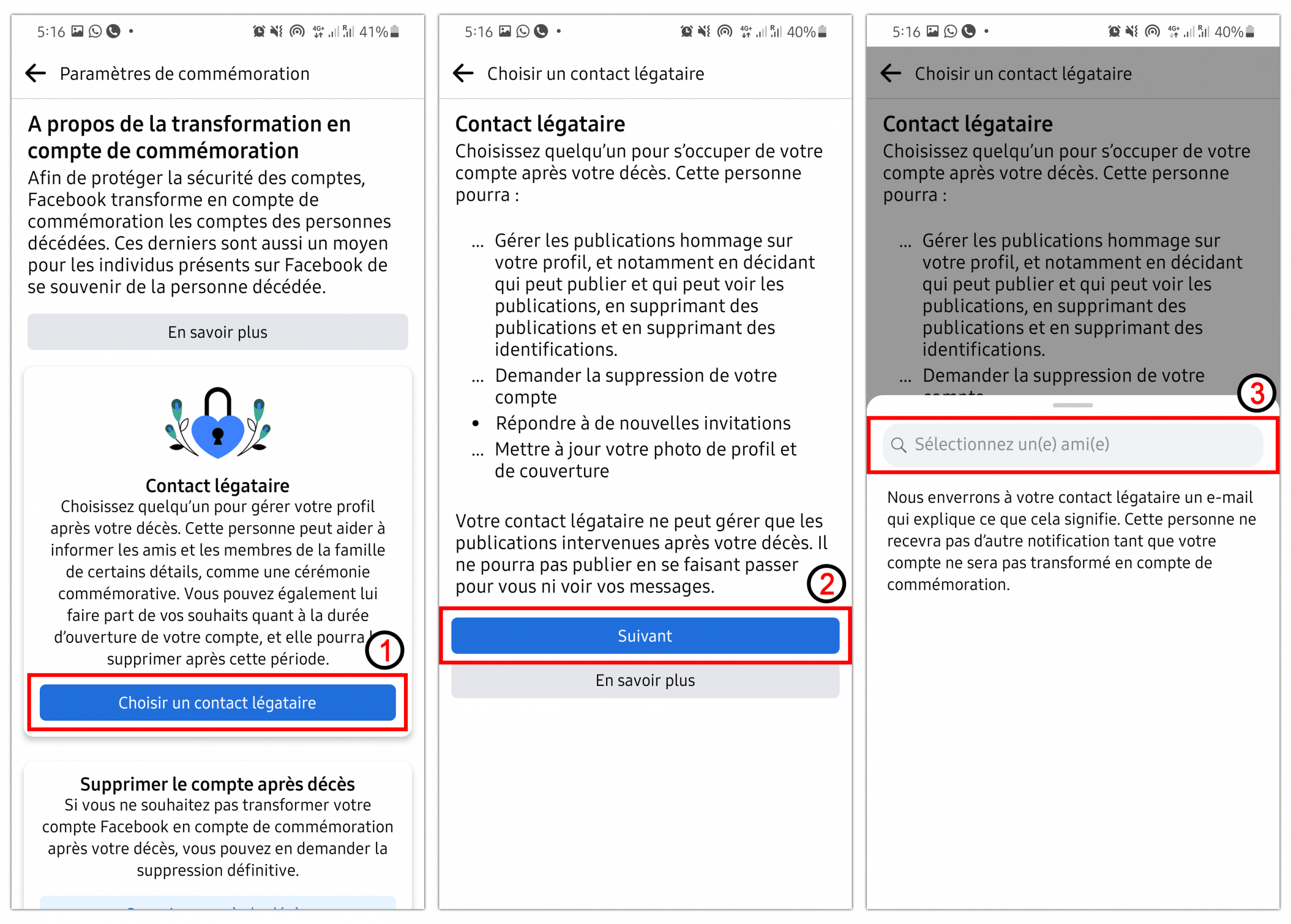 When you enter the name of your future legatee, you will have the opportunity to confirm the entry by choosing the appropriate profile. Once done, click "OK" to confirm this.
Following, Facebook will ask for your opinion about sending an optional message to send to said future legatee. If you wish, click on "Send" (or possibly "Cancel").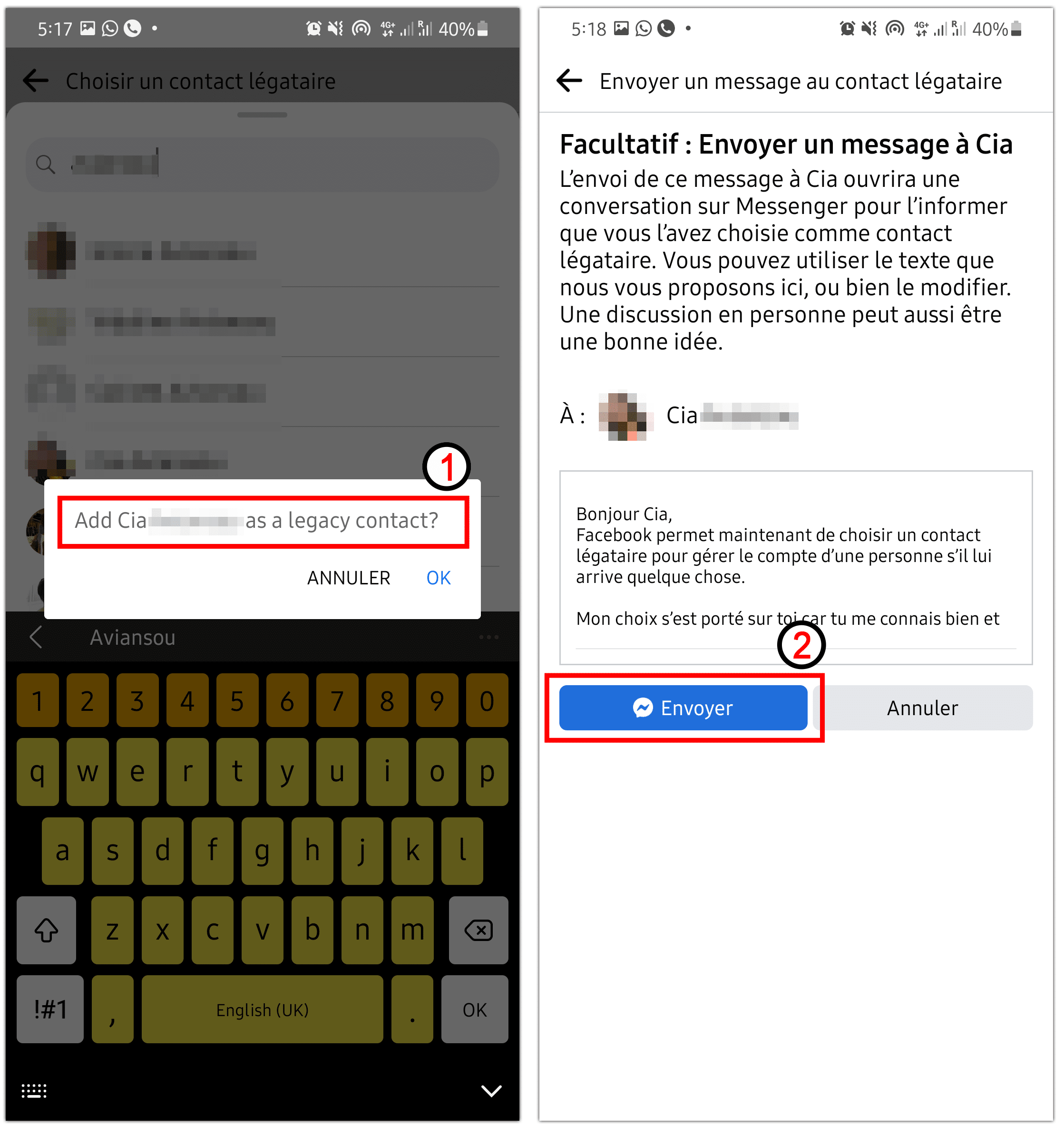 Congratulations! If you have reached this stage, it means that you have been able to define your legatee contact successfully. Now you have the option to grant it some additional permissions by clicking on "Data Archive Permission".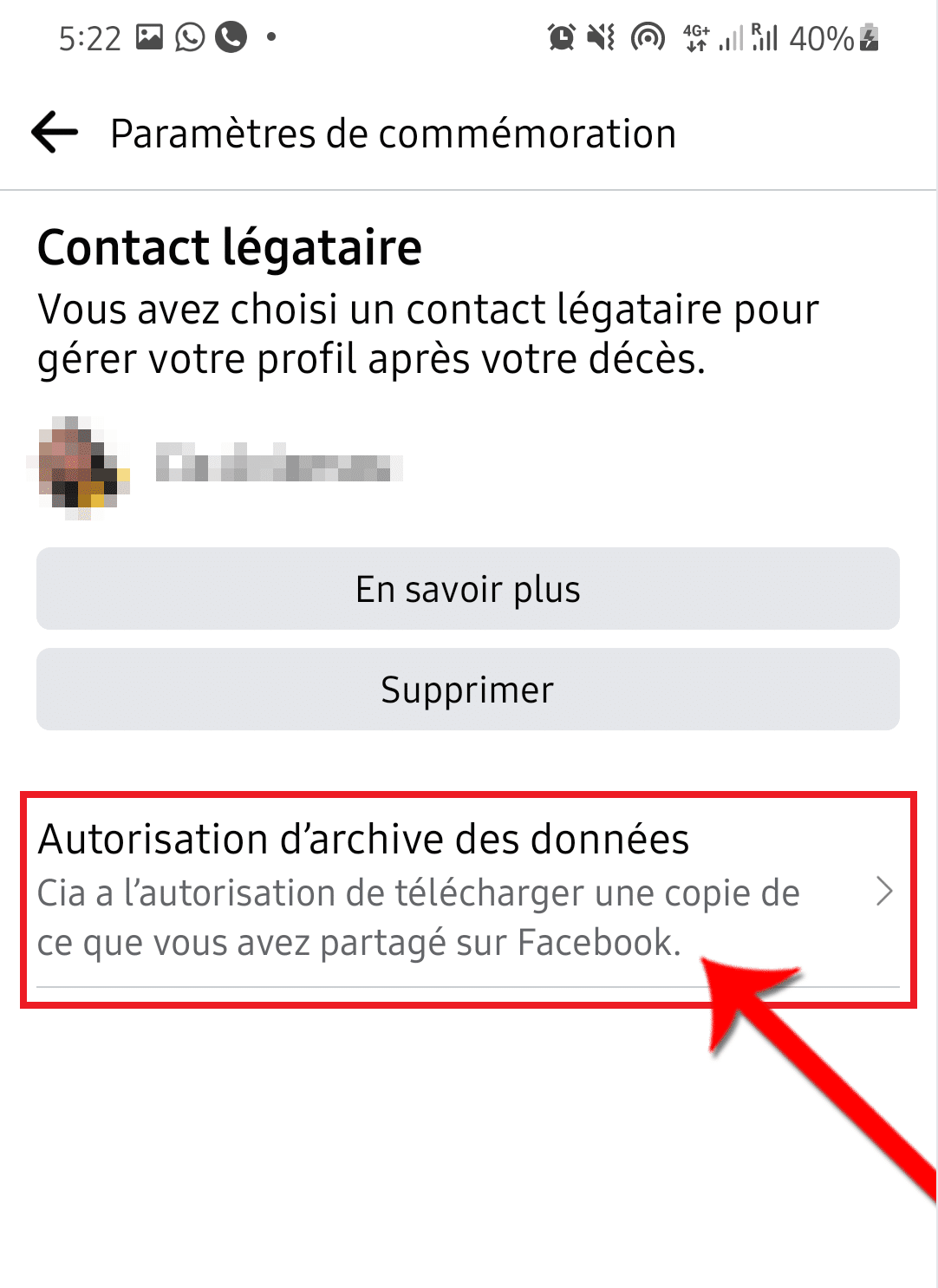 After clicking on this option, you have the option of allowing your legatee to archive your data or not. Click either "Yes" or "No", depending on your preference.
Then click "Submit" and you will have successfully configured.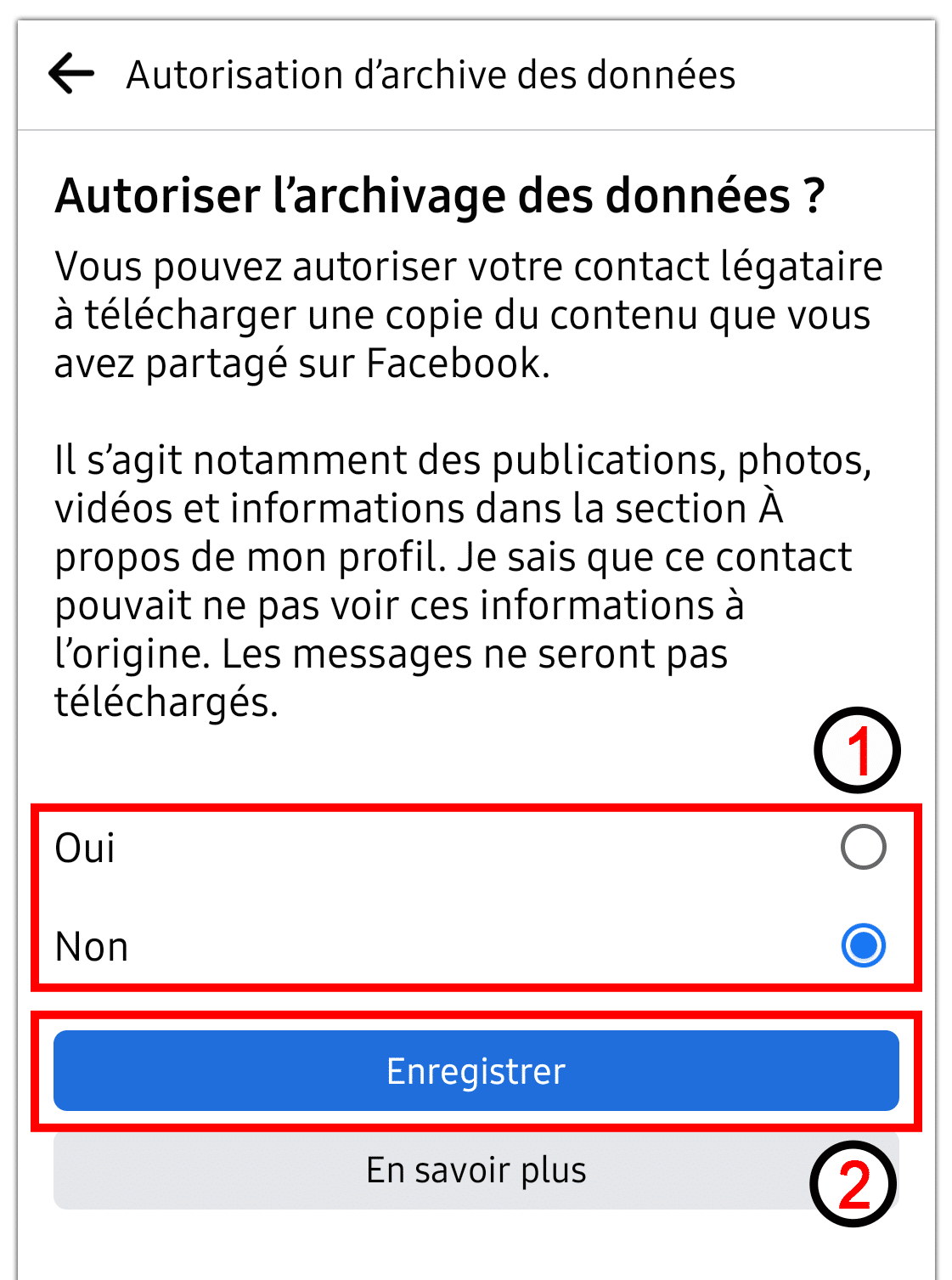 READ ALSO: HERE'S HOW TO CHANGE YOUR FACEBOOK PROFILE INFORMATION
How do I name a Facebook legatee from the browser?
The procedure for adding a legatee contact via their phone is somewhat different from that which must be followed on a PC. If you prefer to do the add operation using your computer, follow these steps.
Go to your Facebook account via PC and click on the small arrow in the upper right part next to the notification bell.
In the menu that appears, click on "Settings and privacy".
Continue by tapping "Settings" in the list that appears under "Settings and privacy".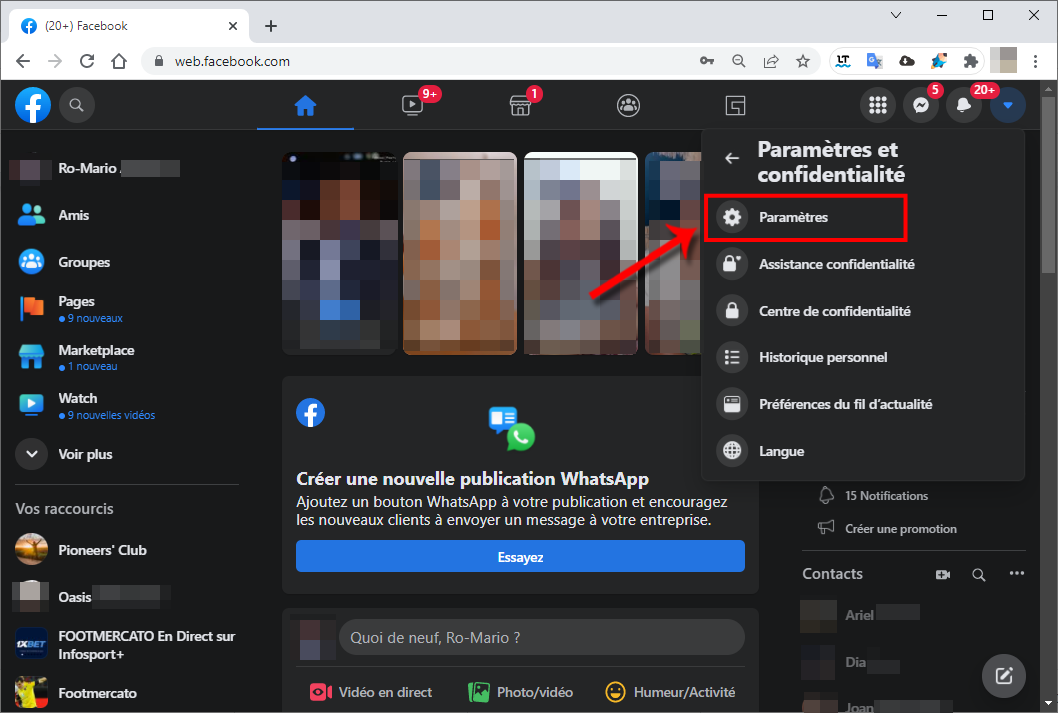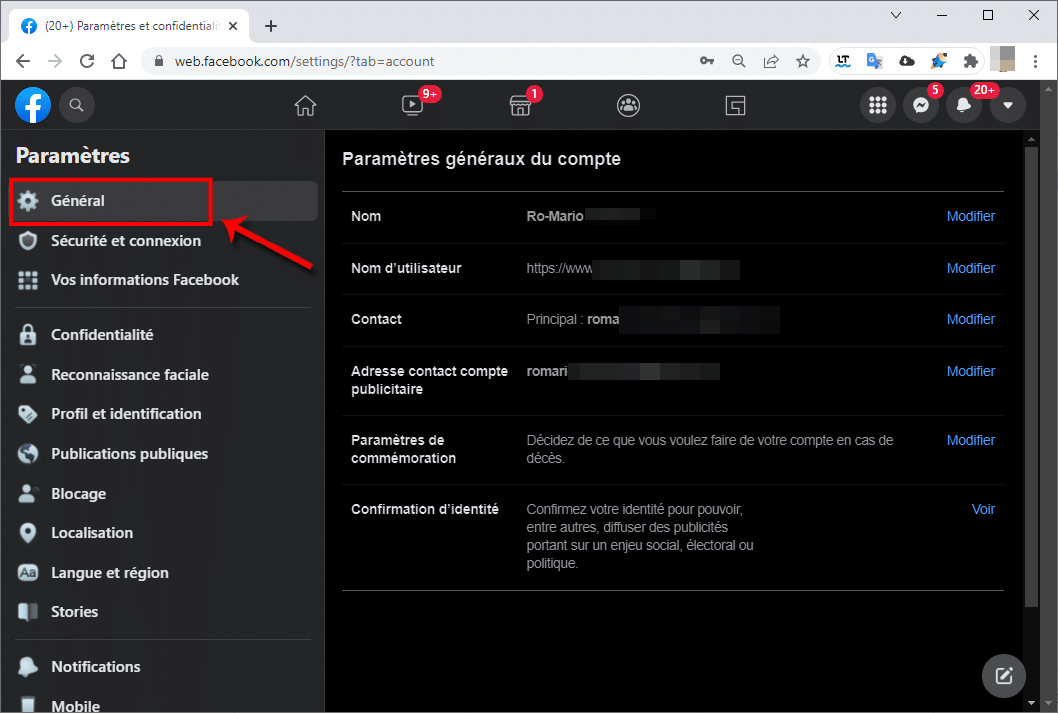 Then tap "Commemoration Settings".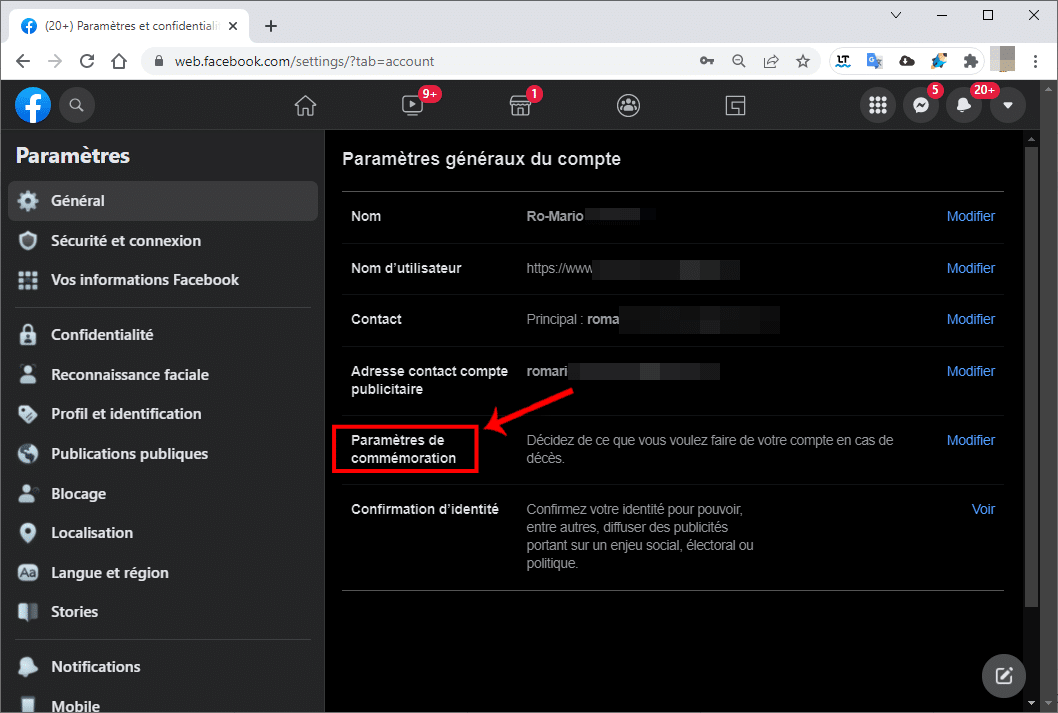 Read the role description of a Legacy Contact (to learn more) and click "Choose a Friend".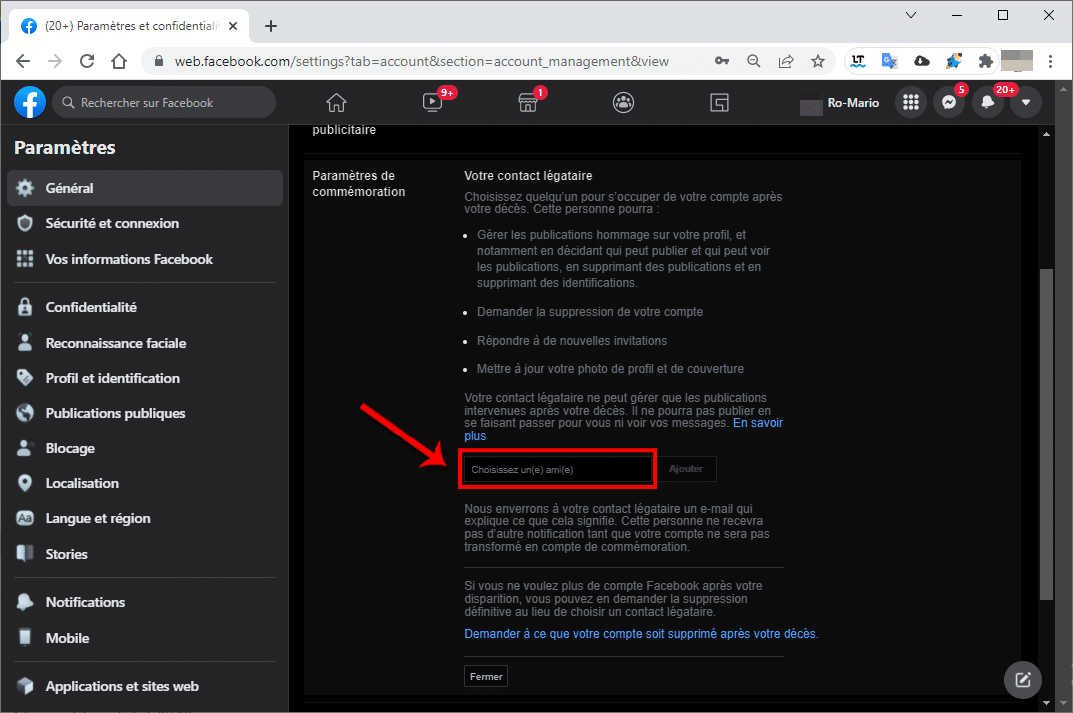 Type the name of the person you want to name as a legacy contact (their name on Facebook). The name will appear below the input field and you can click on it. For this to work, the person must first be a friend of yours on Facebook.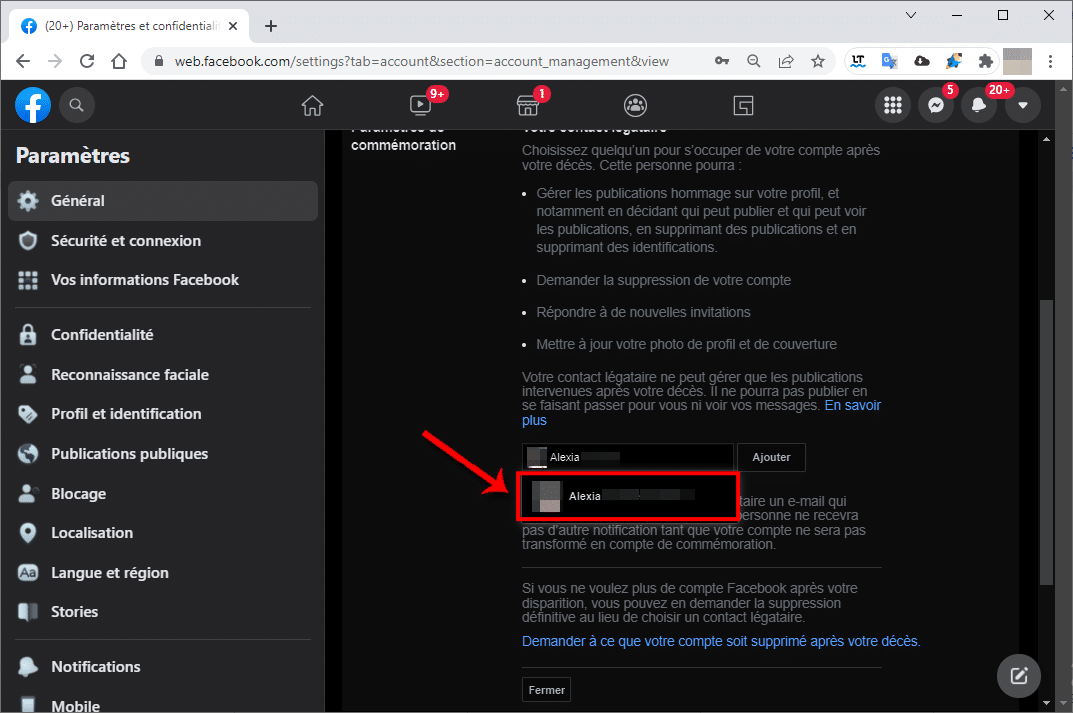 Then press "Add" to choose the profile to be taken into account for this configuration.
After the previous step, your legatee contact will have been chosen. Later, you can decide to notify this person by sending him a message about it. Facebook also offers you a template ready to be sent. All you have to do is click on "Send" to send it.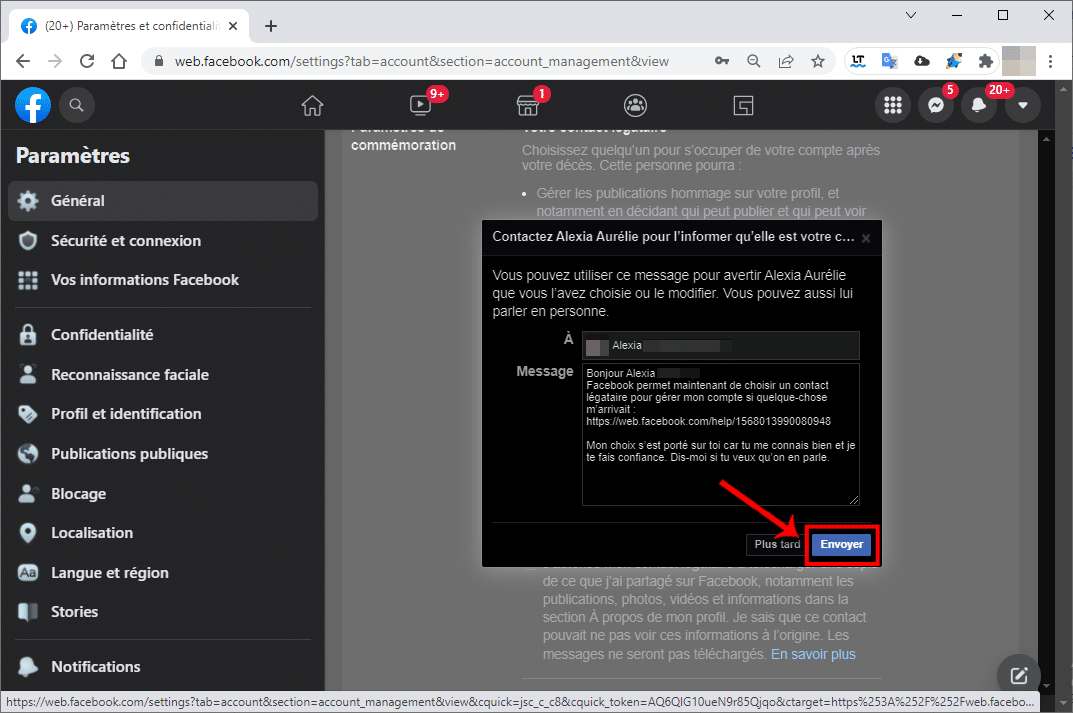 Facebook will let you know that the message has been sent to your heir through a notification message. Click "OK" to exit the section.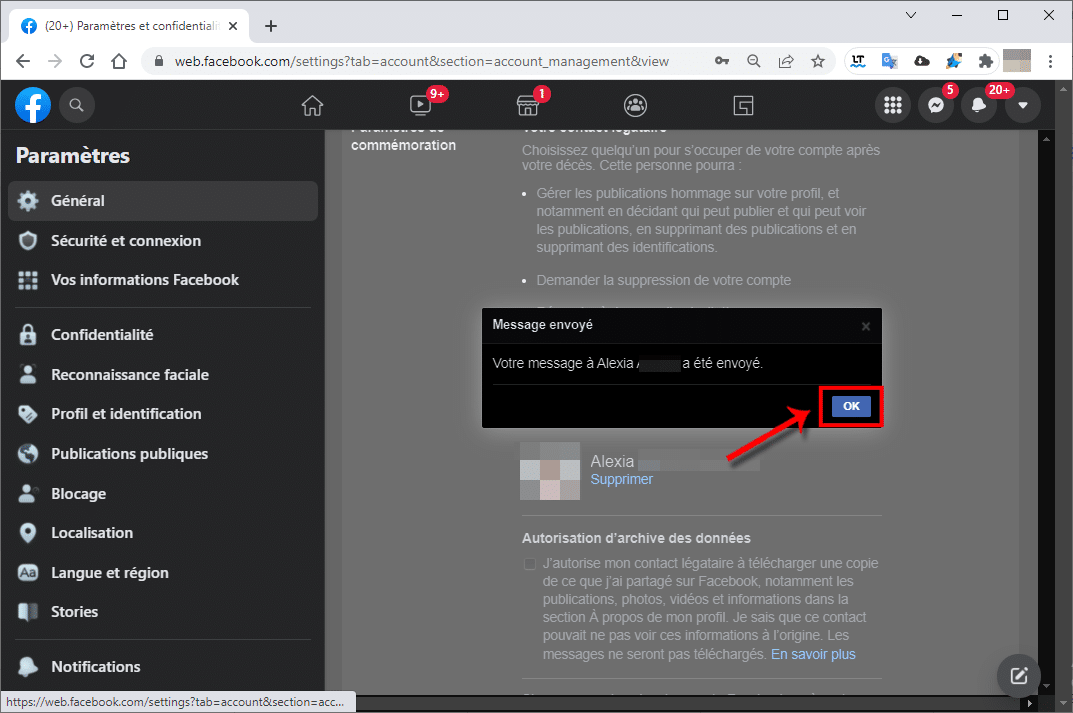 And that's it, it's done! You have correctly configured the legatee contact option offered by Facebook. Now, it would be a good idea to chat with said legatee contact so that he is not surprised when he receives the message from Facebook.