Tech News
Media players and audio tools for a KDE desktop environment
Back to our topics around Linux and its environments as well as the news of its free and open source distributions. Today, we introduce you to some multimedia software and utilities to play, capture, record, edit or even mix audios in order to use them afterwards in the creation of video or podcast content.
A desktop environment for those looking for a simple and clear definition is a set and a multitude of applications, software and tools that are accessible from a single graphical interface that we call here Office / Desktop.
The best known are Windows Desktop, Mac OS X Desktop, Linux Desktop, GNOME Linux Desktop, KDE Linux Desktop and forks like Cinnamon, MATE and so on…
Now back to our list of the best readers and audio tools for the environment that interests us here, the KDE desktop (Kool Desktop Environment) and more precisely its latest version KDE Plasma.
#1. KRecorder
The first and as its name suggests is a very simple application, and which allows you to record and capture audio under a KDE desktop thanks to a really minimalist interface with just the necessary to launch a recording session under Linux.
KRecorder offers you a whole pack of features like viewing it, control while recording with commands like pause to pause recording for a while and Reading to resume recording. Also we find the possibility of choosing the encoding formats and the selection of other sources.
The official KRecoder project page: https://invent.kde.org/plasma-mobile/krecorder
#two. AudioTube
AudioTube is another KDE desktop application that I find very interesting to have on a Linux operating system because and as its name suggests it will allow you to listen to video content from YouTube without the need to go view on the YouTube Music platform.
AudioTube in real life is a client for YouTube Music and which will help you after its installation to search for music on YouTube Music, to create a list of albums and artists, to play automatically generated playlists and to create your own playlists…etc.
It's as if you're using the Deezer or Spotify app. In short, a magnificent application that I advise you to test it if you are under a KDE.
The AudioTube project page and its source code: https://invent.kde.org/plasma-mobile/audiotube
#3. Vvave
Wow, another alternative that can replace several minimalist audio players that usually come with Linux distributions by default. Vvave is a very interesting cross-platform application especially for a desktop environment like KDE because its interface is very similar to iTunes and with all the features that go with it.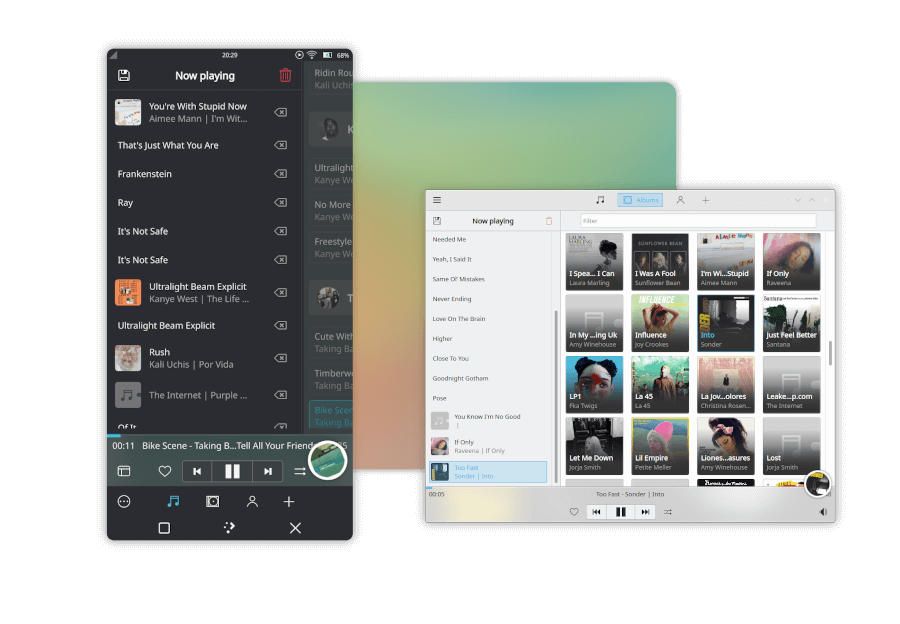 Thanks to Vvave, you can create your own playlists and search for music based on semantic queries. It is even possible to send your music to your phone, add atmospheres and effects to your music.
Vvave was developed to integrate natively and seamlessly into a KDE Plasma desktop environment.
#4. kwave
This one is very useful if you are looking for a solution to edit audio on an operating system like Linux and it is a perfect alternative to Audacity just for example.
Thanks to its simple interface resembling that of Audacity as well as its availability as a native KDE application, it was able to seduce quite a few Linux users looking for a solution to edit audio tracks.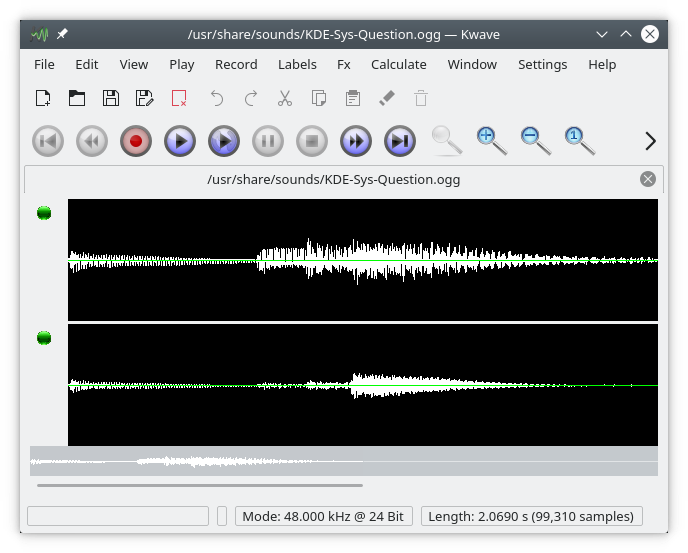 The application allows you under a KDE desktop environment to record, play, import and edit audio files in several formats, including multitrack files.
Kwave supports plugins and external modules to be able to edit and transform your audio files in different ways.
To download and install it, go to this page.
#5. Elizabeth
very similar to Vvave and also to iTunes in terms of its interface and functionality, Elisa is another music audio player that you can use quietly in a KDE desktop environment, but not only in the latter but also on other desktop environments.
For regulars of Windows and its multimedia player, they will surely find this one very attractive under Linux even if it is also available for Windows.
Elizabeth is a media player belonging to the KDE project and Plasma, and therefore a player compatible with libraries like Kubuntu, Plasma and Qt. It offers music playback, creation of music lists, full Plasma desktop support and of the Baloo tool, and visualization of metadata.
#6. KMix
The last on our list is KMix, a very easy-to-use sound channel mixing and volume control tool that can be useful in creating audio for your podcasts for example on KDE while taking advantage of its features and options.
KMix is ​​compatible with several platforms and sound drivers:
The ALSA sound card driver.
All Open Sound System platforms. The tests were carried out under linux, FreeBSD, NetBSD and BSDI.
Solaris-based machines.
The KMix source code page for KDE: https://invent.kde.org/multimedia/kmix
– 100GB package + Xiaomi Redmi note 11 offered! –