Dell has updated its laptop or rather its ultraportable Dell XPS 13 9305this update concerns its price as well as these characteristics in order to further improve its performance with the arrival of Windows 11 from Microsoft.
To get straight to the point, on the DELL site, this reference is offered in 4 different models and the most important thing here is that they are generally all cheaper by buying them directly from Dell than on merchant sites like Cdiscount (in its market place reserved for resellers), Amazon or Fnac. And I think that these merchants have not yet aligned their prices with the prices offered by the brand on its French site.
The Dell XPS 13 9305 is available in 4 variants, two models sold with EVO processor 11th Generation Intel® Core™ i5-1135G7, the first is under Windows 11 Home with 8GB of RAM and 256GB SSD storage, however the second is under Windows 10 but has 512 SSD storage unlike the first and 8GB of RAM. But beware, both are sold with a 13.3-inch Full HD screen but non-touch.
Regarding the price, Dell (on its website applies a discount of 18% (200 euros), ie a price of €898.99 on the first Core™ i5-1135G7 model with Windows 11 and a reduction of 21% (250 euros) and therefore at a price of €949.01.
For the two models sold with the 11th generation Intel® Core™ i7-1165G7 processor, both variants are offered with an i7 with 12MB of cache, which is very interesting as well as a 16GB RAM against the 8GB of RAM found on both i5 models and 512 GB SSD storage. The two i7 models of Dell XPS 13 9305 are on Windows 11 Home.
The only difference between the two is that the second, more expensive is sold with a 13.3″ InfinityEdge 4K Ultra HD (3840 x 2160) touchscreen, which justifies its high price.
For prices, Dell (on the site: applies a discount of 400 euros, ie a price of €1099.00 on the first Core™ i7-1165G7 model without touch screen (I ordered this one right away since the same reference is offered in the Cdiscount marketplace by a retailer at 1523 euros, see photo below at support).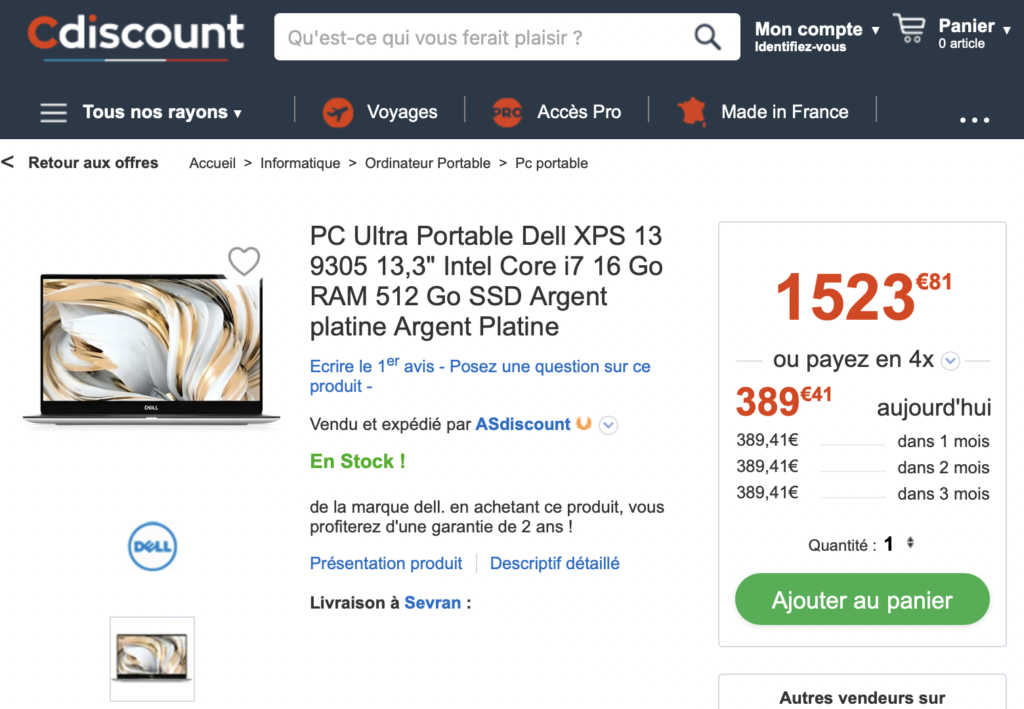 Regarding the model with touch screen, Dell and still on its site, offers it at €1299 instead of €1699.
Finally, on the connection side, there are 3 USB 3.2 Type-C ports (2 of which are Thunderbolt 4 compatible), a micro-SD card port and a jack port for connecting a wired headset.
Another remark, on the model that I have just purchased and tested (Core™ i7-1165G7 without touchscreen), the function Windows Hello to configure the connection by facial recognition using the camera does not work and the system informs me that the webcam is not compatible! I will come back to this subject in a future article if I manage to configure it.
– 100GB package + Xiaomi Redmi note 11 offered! –