Tech News
How to Disable Low Data Mode on Your iPhone
This article introduces how to turn off low data mode on iPhone for WiFi and mobile data. It lets you resume updates and sync, boost streaming quality, auto downloads, and more.
What happens when I disable low data mode?
Disabling low data mode re-enables features that low data mode disables.
The background app refresh setting resumes (if you had enabled it).
Automatic settings for downloads and backups will restart (if enabled).
Streaming quality will no longer be diminished for content such as music or video.
Application-specific changes
Some iOS apps and services will return to normal when you turn off low data mode.
App Store: Automatic updates, downloads, and video autoplay will resume.
FaceTime: Rate will no longer be configured for low bandwidth.
iCloud: Updates will restart, and iCloud Photos automatic backups and updates will also resume.
Music: Automatic downloads and high-quality streaming will resume.
Podcasts: Episodes will be downloaded as usual, not just over Wi-Fi, and feed updates will no longer be limited.
Keep in mind that if you had not enabled any of the above features or services when you enabled low data mode, they will not be affected. For example, if you had disabled background app refresh before, the setting will not turn on automatically when you disable low data mode.
How to Disable Low Data Mode on iPhone
The Low Data feature is available for Wi-Fi and mobile data. You'll need to turn it off separately for each, just like when you turned it on.
Disable Low Data Mode for Wi-Fi
1.Open the app Settings and select Wireless.
2.Press the icon information to the right of the connected network.
3. Disable the toggle for low data mode.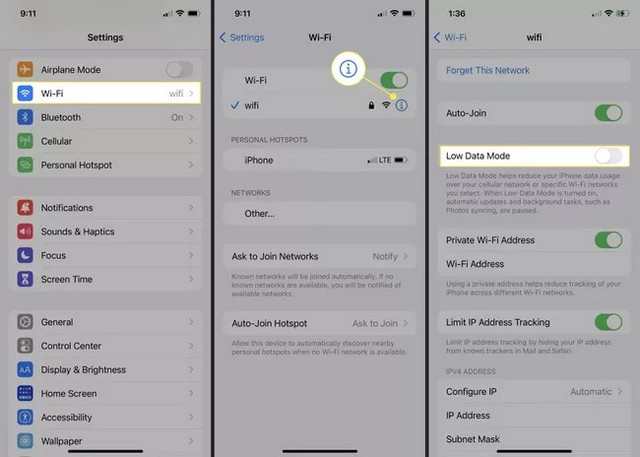 Disable low data mode for mobile data
1.Open the app Settings and select Cellular where Mobile data depending on your package.
2.Press Cellular data options or Options mobile data. If you have dual SIM, select a number instead.
3.For 5G data, select datamode and disable Low DataMode. You can choose standard where Allow more 5G data according to your preferences.
For 4G, LTE or dual SIM, simply disable the Low data mode.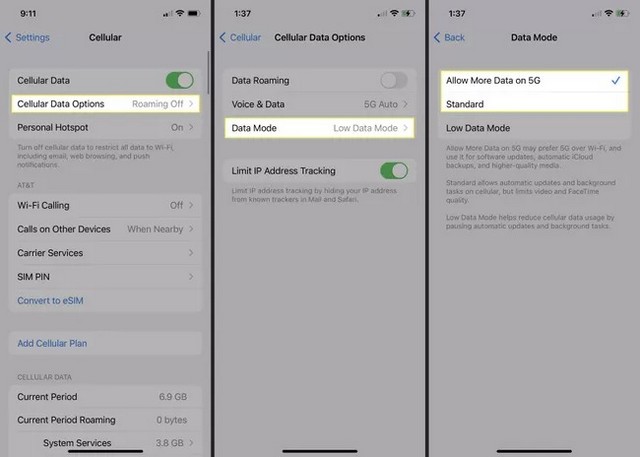 FAQ's
How to check data usage on an iPhone?
For more help with managing your mobile data, you can check your iPhone's data usage. Get to Settings > Cellular and scroll to Cellular dates. In this section, you can see a breakdown by app of what's using the information, as well as a monthly total.
What is data roaming on iPhone?
Data roaming happens when your iPhone connects to towers that don't belong to your carrier. Your carrier shouldn't charge you more for data roaming, but you can turn it off if you want. Get to Settings > Cellular > Cellular data options and tap the switch next to data roaming to deactivate.
Conclusion
In this guide, you learned how to turn off Low Data Mode on your iPhone. If you have any questions or suggestions, let us know in the comments. Also check this guide if you want to learn how to turn off driving mode on iPhone.